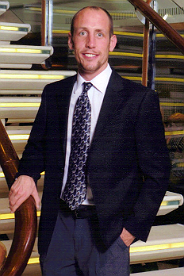 AU Military Community Peer Academic Mentor, Brent Adams
Individualized consultations on effective study and test preparation strategies, time management, reading strategies, note taking, campus resources, and more. By drop-in or appointment.
Dear Veterans and Dependents,
As the academics mentor for AU's military community, I want to introduce myself and invite you to contact me during your time at AU.
My name is Brent Adams. Currently, I'm finishing up my bachelor's in SIS and starting my master's. I served 8 years active-duty Navy and now am a traditional reservist. Also, I am married and work part-time. So I understand that you come to AU with life experience and a strong work ethic. To help you settle in at AU, you may want to connect with AU Vets and the Academic Support and Access Center (ASAC). The ASAC sponsors my work helping the military community at AU find resources and strategies to meet their academic goals. I can help you make the most of your time, get the most out of a syllabus and take notes more efficiently. And that's just to name a few. I can also point you in the right direction if you have an issue I can't resolve.
If you would like to meet with me, I am available for one-on-one appointments or during walk-in hours on Mondays 1730-1830 and Tuesday 1230-1330 in the Veterans Lounge (Asbury 207). Please feel free to contact me or, if you are on-campus, to stop in and introduce yourself. I look forward to meeting you and helping in any way I can.   
Sincerely, 
Brent Adams, AU military community academic mentor, ASAC