Department Spotlight
WIPAR Expands Mission to Serve SIS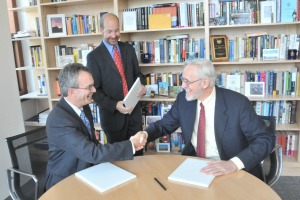 Nine months after its founding at American University in the School of Public Affairs, the Washington Institute for Public Affairs Research has expanded to serve the School of International Service.  As of Sept. 1, the Washington Institute will be known as the Washington Institute for Public and International Affairs Research, while maintaining its acronym, WIPAR.
WIPAR will serve as a resource to both schools, assisting faculty in the development and funding of their research projects and helping to connect them with policymakers and practitioners who will benefit from their findings.
"We are delighted to serve SPA and SIS and hope that our close ties between scholars in both schools will lead to further collaborative opportunities," said WIPAR Director and Professor Jon Gould. "This is an exciting development for both schools and American University as a whole as we work to enhance individual scholarship, strengthen ties with the funding community, and disseminate faculty research to policymakers here in Washington and abroad."
The deans of SIS and SPA formally signed a joint operating agreement for WIPAR on August 29, in the office of SIS Dean James Goldgeier. Also in attendance was University Provost Scott A. Bass, who said that the founding and expansion of the Washington Institute continue the University's momentum as leading research institution.
The expansion into SIS has resulted in the doubling of WIPAR staff, as two additional full-time staff and a second program assistant will join the Washington Institute. WIPAR will now have offices in both SIS (Room 332) and SPA (Ward Circle 337-338), with staff circulating between the two schools.
For more information about the Washington Institute, visit american.edu/wipar or email wipar@american.edu.