Am I Eligible for Housing?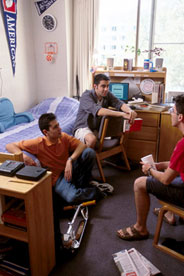 University-managed housing is limited and cannot be guaranteed for Abroad at AU students. Students should contact the Abroad at AU office to determine their eligibility and chances of being housed by American University.
For students eligible for university-managed housing the university has eight smoke-free student residence halls on AU's main campus and nearby Tenley campus (less than 2 km away). To be considered for university-managed housing, students must submit their confirmation and deposit by the stated deadline. If deposits are received late, students will not be housed by the university.
Students in university-managed housing will live in double or triple rooms with a bed, desk, dresser, and closet space for each resident, plus in-room wiring for computers, internet access and cable TV. Clean, modern bathrooms and laundry facilities are shared on each floor.
A free shuttle bus runs every 10 minutes between the main campus, Tenley campus, and the Tenleytown-AU Metro stop. For more information on university-managed housing, see the Housing and Dining website.
The average age range of students living on campus is 18-21 and the entire AU campus is dry (no alcohol is allowed anywhere on campus). Students age 21 and older often prefer to live off-campus.
Off-campus housing is available in the Washington, DC metropolitan area. More details can be found at the Off-Campus Housing website. Homestay accommodations can also be found through specialized agencies in the Washington, DC, area.
American University offers a variety of different on-campus dining options. Abroad at AU students can choose one of the meal plans, each customized for different preferences.
Meals can be taken in the Mary Graydon Center's Terrace Dining Room (known as TDR) or in the other on-campus establishments. Kosher meals are also available. In addition to the Terrace Dining Room, American University offers other establishments to eat on-campus, including the eateries in Mary Grayden Center (Bene Pizzeria, Einstein Bros. Bages, Elevation Burger, Freshii, Global Fresh, P.O.D. Mini Mart), the Davenport in SIS (fair trade coffee from around the world), the Eagle's Nest (featuring Subway and a convenience store), and the Megabytes Cafe (featuring Starbucks and Indian food). For more information, see the Dining Services website.
Each floor in the residence halls has a shared kitchen, with a microwave, stove and oven, which students can use to prepare their own meals.