Alumni
Black Alumni Alliance Announces Book Award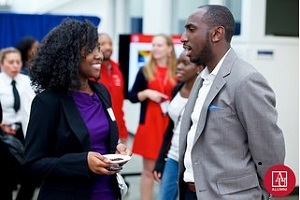 Supporting black student scholarship is paramount for higher education – and arguably, the world. This is one of the reasons the American University community continues to increase its support for AU's African-heritage students.
Since 2012, the AU Black Alumni Alliance has worked with students, administrators, and faculty to create engagement efforts that recruit, retain, and reward black students at AU, and the results are impressive. From new student welcome activities to co-presenting with the AU Latino Alumni Alliance the university's largest annual multicultural alumni and student gathering during All-American Weekend, the BAA continues to reconnect #ebonyeagles while inspiring future alumni leaders.
Out of a strengthened connection with the Black Student Alliance –AU's largest black student organization - came a charge from Jasmyn Shumate, BSA president, that the BAA create a new tradition to aid deserving undergraduate students who demonstrate strong connections to the black, African-heritage, and Caribbean communities. BAA Chair Clarence J. Fluker, SOC/MA '02, Nicole Robinson, SOC/BA '00, SOC/MA '02, BAA awards and scholarship co-chair, and others worked with the BSA to answer this call.
"The book award is a direct and meaningful way to support current black AU students. As alumni, it is important that we assist students how they need it most. A book scholarship is surely one of those things. Donating to the book award, engaging students as mentors, these are the ways we must nurture our young black students and help build strong black alumni," says Fluker.

Thanks to gifts and pledges from many American University alumni and BSA fundraising efforts, the BAA will award the first $500 BAA Book Award to an AU student in Fall 2015.
To join the growing list of alumni donors investing in black student scholarship at AU, visit alumniassociation.american.edu/BAAgiving to give a contribution to the BAA Book Award.
#AUBAA #EbonyEagles