Alumni Relations
4400 Massachusetts Avenue NW
Washington
,
DC
20016
United States
Greetings from Joe Vidulich, SPA/BA '08 President of the Alumni Association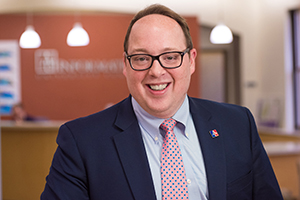 Fellow Eagles,

It has taken a while for spring to arrive in Washington, but, as usual, this time of year is a beautiful and busy time at AU! If you haven't been back to campus lately, this is the perfect time of year to make the trek home! The arboretum is an inviting spot. The quad is filled with students, faculty, and even this nostalgic alumnus. It truly a welcoming campus!

Last week, I was thrilled and honored to participate in the inauguration of our 15th president, Sylvia M. Burwell. President Burwell truly embodies our values, and I believe she is the ideal leader for this time in our history. AU is poised to do amazing things, and inauguration activities served as a great reminder of both how far we've come and how much we can accomplish together.
I want you to know that on behalf of all AU alumni, the Alumni Board presented President Burwell with three gifts in honor of her historic inauguration. We commissioned a painting by her favorite artist, got her a custom AU basketball jersey, and presented her a donation from the Alumni Association and the Parents Leadership Council in the amount of $125,000. The donation will support AU's greatest areas of need through the Fund for Excellence. It was a pleasure to be a part of this presentation, and President Burwell was very grateful. Many thanks to all who contributed. If you'd like to make a gift in her honor, please do so now at giving.american.edu.

Getting back to what we can accomplish together, I am reminded that April is National Volunteer Month. I'm sending my personal thanks to our more than 2,000 AU alumni volunteers whose impact on this university is undeniable - and incredibly important. You are truly inspiring! And, for those of you who are not yet volunteers, I encourage you to learn more about the various opportunities to be involved at AU. Details are at american.edu/alumni/volunteer, and if you don't find something that meets your particular interest, please email alumni@american.edu so that we can find a way to connect.

In addition to recruiting volunteers for AU, we're hosting Eagles in Action, a coordinated day of service, around the country on April 28. I hope you're able to join fellow AU alumni in serving our local communities on this day!

Happy Spring to all!

- Joe Vidulich, SPA/BA '08