Greetings from Joe Vidulich, SPA/BA '08 President of the Alumni Association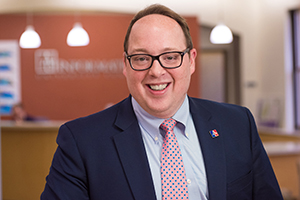 Hold on to your hats, Eagles! It's officially time to turn our attention to the fall and the plethora of activities your Alumni Association has planned. First and foremost, All-American Weekend is right around the corner. I hope you're making plans to return to DC and to AU next month. We will celebrate this great university with more than 40 events during the weekend of October 19-21. And, if you haven't heard, this year's All-Alumni Party is at the Newseum. This is definitely not #FakeNews. I hope you will be there!
This month's Alumni Update features five alumni award winners to be acknowledged at a special dinner during All-American Weekend. This truly exceptional slate of recipients includes Andre Ingram, CAS/BS '07, Jack Rasmussen, CAS/MFA '75, CAS/MA '83, CAS/PhD '94, Rebecca Geller, SPA/BA '02, WCL/JD '07, Brandon Krapf, SIS/BA '14, and Sarah McBride, SPA/BA '13. I hope you will join in as we recognize them for their contributions both to AU and to our communities on October 20.
Please also take time to read up on the progress we've made in the Plan for Inclusive Excellence. I am very proud of this AU's commitment to these ideals. And if you haven't read up on the newest AU Eagles, take time to learn about the class of 2022.
Lastly, I want to point out this recent letter from President Burwell. It's a great back to school message, and if you scroll to the bottom, it features amazing photography by Kevin Sutherland, SPA/BA '13. You may recall that Kevin was taken from us all too soon in a brutal attack on Metro in 2015. His spirit lives on, though, at AU. He was a two-time secretary of AUSG, and the door to the student government office now bears his name: the Kevin J. Sutherland Executive Office. He was truly a special individual and touched the lives of many! I'm proud of his contributions and his legacy.
All the best,
- Joe Vidulich, SPA/BA '08