Alumni
AU Community Comes Together for Thanksgiving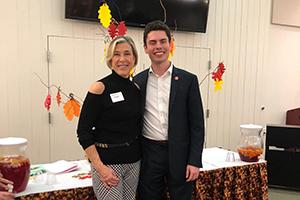 As a Resident Assistant during his senior year at AU, Tom Florczak, CAS/BA '17, had to work on Thanksgiving. Always one for an adventure, Florczak and one of his residents who could not return home to Hawaii traveled to Virginia for a community Thanksgiving dinner. 
Planned by Pam Deese, SPA/BS '80, WCL/JD '83, an AU trustee, and the Lewinsville Presbyterian Church, the annual community dinner offers fellowship and food for young adults, college and graduate students, individuals, families, and the elderly who are far from home or without family during the holiday season. The event is always free and even provides transportation for participants. 
After graduating, Florczak joined AU's DC Young Alumni Chapter Board and became executive vice president the following year. Knowing firsthand how the dinner provided a warm meal and new friends, Florczak and the DC YAC worked with Deese to promote the dinner to students, alumni, faculty, and staff. 
"We wouldn't want anyone to miss out on an enjoyable Thanksgiving if they remain on campus or in DC for the holiday," Florczak shared. "For the DC YAC, it made perfect sense to show our support of this opportunity with AU and the DC community." 
Deese and the DC YAC spread the word through AU's residence halls and International Student and Scholar Services Office and encouraged wide-spread engagement through the academic schools and social media.   
As AU students and alumni, we have so much to be thankful for, especially when considering our wide and welcoming our community. This event demonstrates the power of AU in bringing people together.