Alumni Relations
4400 Massachusetts Avenue NW
Washington
,
DC
20016
United States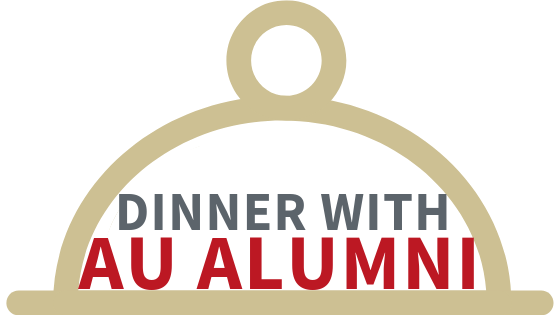 Celebrating 10 Years of Meals and Mentorship
The Dinner with Alumni program brings American University students and alumni together
on one night, in both the fall and spring semesters, to enjoy networking and
a great meal at restaurants and homes across DC!

Since 2010, the Dinner with Alumni Program has become an AU tradition. 
Alumni have hosted more than 150 dinners throughout DC, engaging more than 900 Eagles 
in meaningful conversations over a shared meal.
Fall Dinners will be held on Thursday, November 7.
Registration for alumni hosts and students is open from Thursday, September 19 to Friday, October 25.

Let's make #AUDinnerWithAlumni
bigger than ever before!
There are three types of conversation styles for hosted dinners:
Structured
Create your own agenda, identifying clear goals and objectives
Send plan to OAR at least 48 hours prior to dinner
Plan sent to students by OAR in preparation for dinner
Semi-structured
Loosely planned conversation
Option to send agenda to OAR for forwarding to students
Unstructured
Casual conversation that develops organically
No agenda needed
Unstructured
Casual conversation that develops organically
No agenda needed  
Alan Luba, SPA '71
Amy Lampert, SOC/BA '94
Bradley White, SPA/BA '99, WCL/JD '07
Brandy Corcoran Carlson, Kogod/BSBA '92
David Teslicko; SIS/BA '09, WCL/JD '12
Diana Pak, WCL/JD '12
George Whitehouse, Kogod/BS '69 
The Honorable Judge Gerald Lee, SOC/BA '73 WCL/JD '76 
Jolene McNeil, SPA/BA '97
Jonathan Day, SPA/BA '94
Jordan Haverly, SPA/BA '09
London McCloud, Kogod/BSBA '02
Michael Pasko, SPA/BA '08
Penny Pagano, CAS/BA '65
Sara Nieves-Grafals; CAS/BS '75, CAS/MA '79, CAS/PhD '80
Suzanne Ffolkes; SOC/BA '84, SOC/MA '85
Tyrone "Ty" Harris, Esq., SOC/BA '72, WCL/JD '75
A limited number of alumni hosts and students can participate each semester.
You must register to host or attend, and you will be contacted if you are placed on the waitlist. 
For more information contact Amber McClay, Assistant Director, Student-Alumni Engagement.