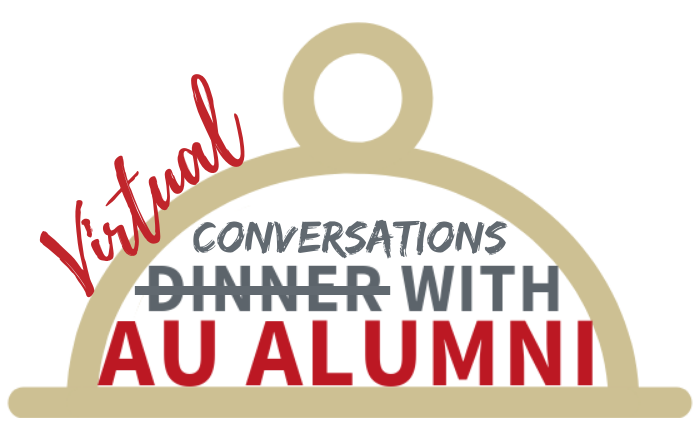 Students and Alumni Connecting One-on-One
Since 2010, the Dinner with Alumni program has become part of the AU experience. Alumni have hosted over 200 dinners throughout DC, engaging more than 1,000 Eagles in meaningful conversations over a shared meal.

During the 2020-2021 academic year, students and alumni continued the conversations, community-building, and mentorship virtually.

We look forward to connecting students and alumni in the fall semester to continue this AU tradition.
Events will be scheduled soon!
Just as the university is entering a hybrid modality for students, faculty, and staff, we at the Alumni Association are doing so, too! We are planning how we can continue to offer this program virtually and in-person to connect students and alumni around career interests, indentities, and goals.

Registration for students and alumni will open in the fall semester. 

We look forward to seeing you for #AUDinnerWithAlumni!
Alumni will be matched one-on-one with students. During registration, alumni may choose how many students they would like to be matched with during the spring semester.
Alumni and students are requested to schedule their own meeting(s).
Meetings can occur over the phone or video conference (e.g. Zoom), depending on each participant's preference. 
Alumni and students are requested to let the Alumni Association know they met and provide feedback via the survey form sent at the time of matching. 
If alumni would like to send their student(s) a $5+ gift card for coffee, lunch, etc. they may coordinate that gift with the student.
There are three types of conversation styles for hosted dinners:
 
Unstructured
Casual conversation that develops organically.
No agenda needed.
Feel free to review the questions in the Informational Interviews section under FOR STUDENTS. Many students use those questions to start the conversations.  
Semi-Structured
Loosely planned conversation.
Option to send agenda to Amber McClay for forwarding to students.
Structured
Create your own agenda, identifying clear goals and objectives.
Send agenda to Amber McClay at least 48 hours prior to dinner.
Agenda sent to students by Amber in preparation for dinner.
Any American University Alum can host a dinner! Below are some of the groups past hosts have been a member of, but you do not have to be a member of an alumni group to participate! Please reach out with questions. We would love to work with you! 

American University Alumni Board Members
Board of Trustees Members
Donors
Friends of AU 
Multicultural and Affinity Group Alumni Volunteers
Parents of current and past students 
Regional Alumni Volunteers
Young Alumni Chapter Members
Alcohol Policy
Alcohol is not permitted at events whether or not the students are 21 years of age. Alcohol includes wine, beer, liquor, and mixed drinks. This event is not registered with the University, and anyone who consumes alcohol could be subjected to disciplinary action. 
A limited number of alumni hosts and students can participate each semester.
You must register to host or attend, and you will be contacted if you are placed on the waitlist. 
For more information contact Amber McClay, Assistant Director, Student and Young Alumni Engagement.