Alumni Relations
4400 Massachusetts Avenue NW
Washington
,
DC
20016
United States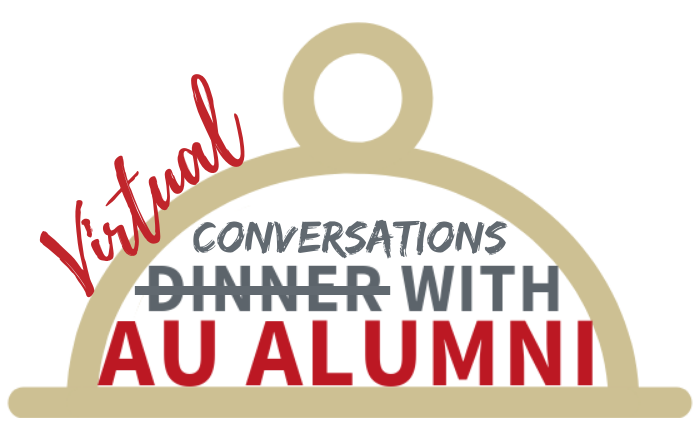 Students and Alumni Connecting One-on-One this Fall
Since 2010, the Dinner with Alumni program has become part of the AU experience. Alumni have hosted almost 200 dinners throughout DC, engaging more than 1,000 Eagles in meaningful conversations over a shared meal.

While we cannot share a meal in person right now, we certainly can continue the conversations, community-building, and mentorship virtually.

This fall, American University students and alumni are invited to come together for one-on-one conversations across the globe! Sign up to be matched and participate in this AU tradition.
Virtual events are being scheduled! 
We're glad to offer this program virtually to connect students and alumni around career interests, goals, and hobbies from their homes via zoom. 

Registration for students and alumni is open now until Tuesday, November 24. 

Students and alumni will be matched and notified soon if you are placed for a virutal conversation. Fall conversations will be matched through Friday, December 4. 

We look forward to seeing you for virtual #AUDinnerWithAlumni!
Alumni will be matched one-on-one with students. During registration, alumni may choose how many students they would like to be matched with during the fall semester.
Alumni and students are requested to schedule their own meeting(s).
Meetings can occur over the phone or video conference (e.g. Zoom), depending on each participant's preference. 
Alumni and students are requested to let the Alumni Association know they met and provide feedback via the survey form sent at the time of matching. 
If alumni would like to send their student(s) a $5+ gift card for coffee, lunch, etc. they may coordinate that gift with the student.
There are three types of conversation styles for hosted dinners:
Structured
Create your own agenda, identifying clear goals and objectives
Send plan to OAR at least 48 hours prior to dinner
Plan sent to students by OAR in preparation for dinner
Semi-structured
Loosely planned conversation
Option to send agenda to OAR for forwarding to students
Unstructured
Casual conversation that develops organically
No agenda needed
Unstructured
Casual conversation that develops organically
No agenda needed  
Alan Luba, SPA '71
Amy Lampert, SOC/BA '94
Bradley White, SPA/BA '99, WCL/JD '07
Brandy Corcoran Carlson, Kogod/BSBA '92
David Teslicko; SIS/BA '09, WCL/JD '12
Diana Pak, WCL/JD '12
George Whitehouse, Kogod/BS '69 
The Honorable Judge Gerald Lee, SOC/BA '73 WCL/JD '76 
Jolene McNeil, SPA/BA '97
Jonathan Day, SPA/BA '94
Jordan Haverly, SPA/BA '09
London McCloud, Kogod/BSBA '02
Michael Pasko, SPA/BA '08
Penny Pagano, CAS/BA '65
Sara Nieves-Grafals; CAS/BS '75, CAS/MA '79, CAS/PhD '80
Suzanne Ffolkes; SOC/BA '84, SOC/MA '85
Tyrone "Ty" Harris, Esq., SOC/BA '72, WCL/JD '75
Alcohol policy
Alcohol is not permitted at events whether or not the students are 21 years of age.Alcohol includes wine, beer, liquor, and mixed drinks. This event is not registered with the University, and anyone who consumes alcohol could be subjected to disciplinary action. 
A limited number of alumni hosts and students can participate each semester.
You must register to host or attend, and you will be contacted if you are placed on the waitlist. 
For more information contact Amber McClay, Assistant Director, Student-Alumni Engagement.