Alumni
Greetings from Rob Johnson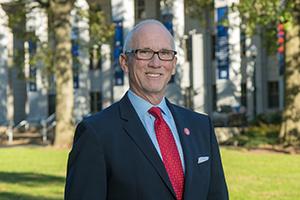 Dear fellow alumni,
This issue of Alumni Update opens with Jarryd Delaney, class of 2019, and other students and recent grads sharing their gratitude for the impact donors like us make on AU. Giving truly empowers students, inspires faculty members, and supports initiatives that strengthen our community to be the changemakers of today and tomorrow. All of this is also increasing the value of each our degrees. 
Even though I live in Houston, Texas, I've been fortunate to spend a fair amount of time on campus lately, and I am always grateful to return. The campus is more beautiful than it's ever been. Construction is ongoing, showing progress of which we can all be proud. And the students and faculty members working at AU every day are extremely impressive. 
There's no shortage of exciting AU news these days. Here are just a few highlights:
- Our fellow alum, Lonnie Bunch III, was named 14th Secretary of the Smithsonian.
- Another fellow alum, Matthew Bennett, is heading home to AU to serve as Vice President and Chief Communications Officer. 
- School of Professional and Extended Studies Dean Jill Klein won a tech award—and is empowering the next generation of women leaders.
- History Professor Peter Kuznick's New York Times bestseller, The Untold History of the United States, written with Academy Award-winning director Oliver Stone was re-released.
- SIS Student Rachel Kronk presented her findings on French Identity Politics at at this year's National Conference on Undergraduate Research.
- Rising political star Stacey Abrams was among this year's commencement speakers, speaking to the SPA Class of 2019 about the power of belief.
This is enough good news to leave me inspired and ready to get back to campus again this month. For now, I'll close by encouraging you to save the date for this year's All-American Weekend, where we'll focus our sights on the future of this great university. I hope to see you back on campus for fun, inspiration, networking, and learning, all during the weekend of October 4 - 6. As you can see, we have much to celebrate!
Once an Eagle, Always and Eagle,
Rob Johnson, SPA/BA '81