A Welcome from Joe Vidulich, SPA/BA '08 President of the Alumni Association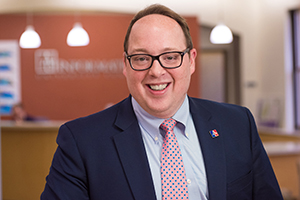 Greetings, fellow Eagles! A warm welcome back to campus and the new academic year! I hope your summer months were restful and you found some time to enjoy family and friends. To our newest students, I extend a spirited welcome to the American University family, and I wish you a happy and successful first year at AU!
One of the goals for the AU Alumni Association is to increase the meaningful experiences you have with our alumni during your time as a student. This year we hope you will engage with DC-based alumni, as well as alumni in your own hometowns, and around the world. Some key opportunities to consider include AlumniFire for AU, a superior alumni networking platform, the Dinner with Alumni Program, and the Student-Alumni Career Panels and Networking events. You'll receive more information in your inbox, and you can find all the details on our events webpage. Be sure to keep an eye out for more!
Some of my fondest memories at AU include the time I spent with the various student organizations I was member to, including the AU Blue Crew and Student Government. I encourage you to flesh out your AU family by getting involved with groups that match your interests. You will undoubtedly make memories to last a lifetime!
Alumni are looking forward to connecting with you and ensuring your AU experience is world class. This year we will be celebrating the 126th anniversary of American University, and the AU Alumni Association has been involved for more than 90 of those years. We look good for 90! I can't wait to carry on the legacy of American University together with you!
Once an Eagle, Always an Eagle!
Joe Vidulich, SPA/BA '08