Alumni
Announcing the 2012 AU Alumni Award Winners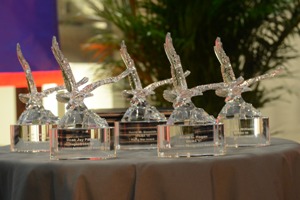 American University is known for producing outstanding alumni who add value to their regional communities and impact the world globally, and this year, we celebrate four outstanding alumni for their achievements.
The American University Alumni Board and the Office of Alumni Relations are pleased to announce the recipients of the Alumni Association's 2012 Alumni Awards. Selected annually from nominations submitted by faculty, staff, and alumni from around the world, these four awards are the highest honors presented to alumni by the Alumni Association. 
The 2012 Alumni Award winners are as follows:
Alumni Achievement Award – Neale F. Lunderville, SPA/BA '96

The Alumni Achievement Award recognizes alumni who have distinguished themselves through their professional accomplishments.
Neale F. Lunderville is the chief executive officer of NG Advantage LLC, a Vermont company that delivers affordable and clean compressed natural gas to commercial customers not on a pipeline. Prior to joining NG Advantage, Vermont Governor Peter Shumlin (D) appointed Lunderville as Irene Recovery Officer tasked with statewide leadership of the state's recovery efforts following the devastating floods brought by Tropical Storm Irene. Previously, Lunderville served as a top aide to Gov. Jim Douglas (R) as Secretary of Administration, Secretary of Transportation and Secretary of Civil and Military Affairs. He is currently a member of the Governor's Council of Economic Advisors and is a board member at both the Preservation Trust of Vermont and at the Vermont Long Term Disaster Recovery Group. 
Alumni Recognition Award – Genna Griffith, CAS/BA '01
The Alumni Recognition Award recognizes alumni who inspire the world around them through service to a philanthropic mission or the AU community.
Genna Griffith is the director of the Achilles Freedom Team of Wounded Veterans. For the past 10 years, Genna has dedicated her life to enhancing the lives of our nation's heroes. She began volunteering with the Achilles Freedom Team during her time as a performer in the USO in 2004 and due to her enthusiasm and devotion she evolved into a prominent role at Achilles International. Genna's perseverance, deep knowledge, and understanding of the issues facing wounded veterans led her to establish the Achilles Marathon Tour. These sponsored weekend retreats have enabled over one thousand wounded veterans to run, walk, or handcycle in 16 prestigious mainstream races nationwide. In 2011, Ms. Griffith was profiled by the NBC Nightly News' Making a Difference series entry, "Love for Country, and One Another." 
Alumni Eagle Award – Ron Vogel, CAS/BA '72
The Alumni Eagle Award recognizes alumni who have rendered outstanding service to the University and/or the Alumni Association.
A native New Yorker, Ron Vogel is the co-owner of Booeymonger, a Friendship Heights (Md.) delicatessen with additional locations in Georgetown, Bethesda, and Ballston. Vogel is as involved with his restaurants – visiting each of the four locations daily – as he is with American University. He is an active supporter of WAMU, men's basketball, and new student programs like the annual Opening Convocation. In 1993 Mr. Vogel supported his friends in the Zeta Beta Tau Fraternity in their establishment of the Donald Brenner Endowed Scholarship. This scholarship honors Professor Donald Brenner, a close friend and mentor of Mr. Vogel, by providing financial support to deserving AU undergraduates. 
Rising Star Award – Richard Golaszewski, Kogod/BSBA '07
The Rising Star Award recognizes young alumni (those who received their undergraduate degrees within the last 10 years) who are already making significant contributions to greater society through professional or philanthropic work.
Richard Golaszewski is a Vice President in Equity Derivatives at Nomura Securities in New York City. He focuses on equity and fund investment solutions, such as structured hedging and fund-linked products. Prior to joining Nomura in 2009, Rich held analyst positions at Barclays Capital and Lehman Brothers. While at AU, Rich was very active on campus, holding leadership positions such as President of the Kogod Finance Group, and participating in the annual case competition (and winning his senior year). As an alumnus, Rich donates his time and energy to further developing the young alumni presence in the NYC finance community. Rich is both a CFA Charterholder and Eagle Scout. 
Please join the Alumni Board and President Neil Kerwin, SPA/BA '71, in honoring these recipients at the 2012 Alumni Awards Ceremony and Reception during All-American Weekend on Saturday, October 20 from 6 - 8 p.m. in the Katzen Arts Center. $25 per person includes heavy hors d'oeuvres, wine, beer, and soft beverages. Special pricing is available for current AU students.
We hope to see you there!
For more information about the 2012 Alumni Awards Ceremony and Reception, contact Tara Lang, director of alumni programs, at 202-885-5921.
To learn more about the 2013 Alumni Awards nomination process, contact Isaac W. K. Thweatt, director of alumni outreach, at 202-885-5930.