Alumni
Announcing the 2016 AU Alumni Award Winners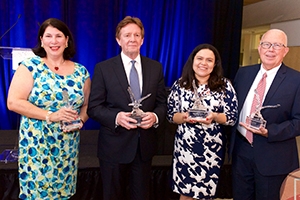 American University is known for its accomplished alumni. AU graduates are thought leaders, business leaders, and world leaders. This year, the university's Alumni Association celebrates four outstanding alumni for their achievements. 
The American University Alumni Board and the Office of Alumni Relations honored the recipients of the 2016 Alumni Awards on Friday, October 21. Selected annually from nominations submitted by faculty, staff, and alumni from around the world, these awards are the highest honors presented by the Alumni Association. 
During this year's special ceremony, the Alumni Achievement Award was renamed to honor Dr. Neil Kerwin's contributions in a decade as president of American University.

The 2016 Alumni Award winners are:

Alumni Eagle Award – Janethe Pena, SIS/BA '02
The Alumni Eagle Award recognizes alumni who have rendered outstanding service to the university and/or the Alumni Association.

Janethe Peña, executive director of DC Doors, has a passion for serving the immigrant Latino community and raising public awareness of the "invisible" homeless living in Washington, DC. She has been with DC Doors since its founding in 1999. As executive director, Peña is responsible for the oversight of all organizational activities yet also conducts client intake interviews, supervises data management, manages program reporting and the organization's finances. Peña is also the chair of American University's Latino Alumni Alliance.

Alumni Eagle Award – Sandra Walter, Kogod/BS, BA '86
The Alumni Eagle Award recognizes alumni who have rendered outstanding service to the university and/or the Alumni Association.

Sandra Walter works to strengthen the capacity of non-profit organizations toward sustainable growth that results in increased mission-related impact. Walter's consulting practice is based on an approach to organizational growth she has developed through 30 years of experience. Walter served on the executive committee of the American University Alumni Board, and for more than a decade, has served as a judge and mentor for undergraduate and graduate students participating in Kogod's business Case Competition.

Alumni Recognition Award – John Boyer, SPA/PhD '89
The Alumni Recognition Award recognizes alumni who inspire the world around them through service to a philanthropic mission or the AU community.

With nearly 40 years of experience in the health care field, in both clinical and administrative settings and the public and private sectors, John Boyer continues to draw on his foundation in public administration and public policy. Since 1995 he has worked at MAXIMUS, a leading international provider of business services to government agencies in the areas of health care, child welfare, employment, and education. He currently leads the company's charitable foundation, which awards cash grants to US organizations that promote personal growth and community development. 
Boyer holds a master's in management from the Naval Postgraduate School, a master's in nursing from New York Medical College, and a bachelor's in mathematics education from Illinois State University.

Alumni Achievement Award – Dr. Cornelius M. Kerwin, SPA/BA '77, President, American University
The Alumni Achievement Award recognizes alumni who have distinguished themselves through their professional accomplishments. This year, it was renamed the Neil Kerwin Alumni Achievement Award in his honor.
Cornelius M. Kerwin became American University's 14th president in 2007. Kerwin joined AU in 1975 and holds a faculty appointment in the School of Public Affairs. He was dean of the School of Public Affairs from 1988 to 1997; provost from 1997 to 2005; and acting—then interim—president of American University from 2005 to 2007.
A nationally recognized specialist in public policy and the regulatory process, Kerwin is actively engaged in research and periodically teaches courses in administrative process, policy implementation, and American government. He founded AU's Center for the Study of Rulemaking and is the author of Rulemaking: How Government Agencies Write Law and Make Policy.

He received degrees from American University (BA), the University of Rhode Island (MA, political science), and Johns Hopkins University (PhD, political science).