Alumni
Announcing AU's 2019 Alumni Award Winners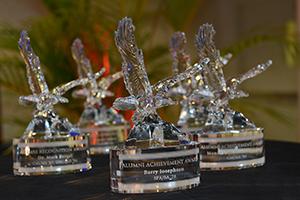 American University is known for its notable alumni. AU graduates are changemakers in their communities and leaders in every field. This year, the university's Alumni Association celebrates seven distinguished alumni for their outstanding achievements.
"Our Alumni Award Winners are simultaneously exceptional and familiar," said AU President Sylvia M. Burwell. "Their achievements are incredible – from the Oscars to the federal bench, from mental health care to home care, from creating engaging interactive digital content to creating opportunities for us to support those who served our nation. Yet each one reflects something fundamental about this university – our focus on service, on promoting community, on using the arts and creative expression to build bridges between us all. This year's awardees make us all proud to be Eagles."
The American University Alumni Board and the Office of Alumni Relations will honor recipients of the 2019 Alumni Awards on Friday, October 4. These awards are the highest honors presented by the Alumni Association. Please plan to join us as we celebrate these alumni during All-American Weekend.
The 2019 Alumni Award winners are:


Neil Kerwin Alumni Achievement Award

Renamed in 2016 to commemorate the successes of AU's first alumni president, the Neil Kerwin Alumni Achievement Award recognizes alumni who have distinguished themselves through professional accomplishments.
Dorothy Toth Beasley, WCL/LLB '64
Senior Judge, Court of Appeals of Georgia
Judge Dorothy Toth Beasley has been a member of Georgia's judiciary since 1977, following private practice and service as an Assistant Attorney of Georgia and an Assistant United States Attorney. She was the first woman on the State Court of Fulton County as well as the first woman to serve on the Court of Appeals of Georgia. Judge Beasley was elected to a two-year term as Chief Judge in 1995. 
In 1992, her long lobby for an addition to the Court's motto, which is etched in stone above the bench, was successful and the words "and women" were added. The motto now reads: "Upon the integrity, wisdom, and independence of the judiciary depend the sacred rights of free men and women." She also has worked in support of Tanzania at the International Criminal Tribunal for Rwanda and trained judges in Albania. 
Dr. Edmund Wyatt Gordon, SPA/MA '50
Professor of Psychology and Education, Emeritus
Co-Architect, Federal Head Start Program
Edmund W. Gordon is one of America's preeminent scholars in the fields of education and the development of marginalized and disenfranchised children. Professor Gordon's early work included participating in President Lyndon B. Johnson's 1960s 'war on poverty' and serving as an architect of the federal Head Start program, which was one of the most successful and effective of the federal government's experiments on poverty. 
Professor Gordon has authored 18 books and more than 200 professional articles. He is among few scholars to occupy endowed professorships at two Ivy League universities and has held appointments at several of the nation's leading institutions, including Howard, Yeshiva, Columbia, City University of New York, and Yale. 
In 2005, Columbia University named its campus in Harlem, N.Y. the Edmund W. Gordon Campus of Teachers College. More recently, The Educational Testing Service created the Edmund W. Gordon Chair for Policy Evaluation and Research, recognizing his lasting contributions to developments in education, compensatory education, school desegregation, and supplementary education.
"While each awardee inspires me, I want to take a special moment to thank Dr. Gordon for his work on the Federal Head Start Program – from someone who was once a bright-eyed, curious girl in the first Head Start classroom in Hinton, West Virginia," said President Burwell. 
Alumni Recognition Award 

The Alumni Recognition Award honors alumni who inspire the world around them through service to a philanthropic mission or the AU community.


Jimmy Lynn, SOC/BA '85, Kogod/MBA '89
Co-Founder and Vice President of Business Development, Kiswe Mobile
Jimmy Lynn, a veteran of 30 years in the sports and entertainment sectors, is a pioneer of the digital sports space and regarded as a leading relationship broker in the global sports industry. He is co-founder and vice president of Kiswe Mobile, the world's most advanced cloud-based social-gamified mobile video platform. 
Previously Jimmy was managing partner of JLynn Associates, a global strategic advisory firm focused on sports-related digital media, marketing, and retail for a diverse set of clients, including teams, athletes, leagues and associations, media outlets, and other businesses.
Prior to founding JLynn Associates, Jimmy was Vice President of Strategic Development and Partnerships at AOL, where he oversaw strategic development and account management of AOL Sports' partnerships with the NFL, NBA, NASCAR, MLB, WNBA, NHL, PGA Tour, ABC Sports, CBS Sports, HBO Sports, Sports Illustrated, Turner Sports, NFLPA, and WWF, among others.  
 
Jimmy also served as Vice President of Diversity Partnerships and Strategic Relationships for AOL's Office of Diversity and Inclusion, where he managed employee affinity networks and partnerships with community organizations. 
He is board chair for the National Fitness Foundation and a past board member of the Washington Nationals Youth Baseball Academy.
Alumni Eagle Award
The Alumni Eagle Award recognizes alumni who have rendered outstanding service to the university and/or the Alumni Association.


Gary Jacobs, SPA/MPA '76
President, Village@Home
Gary Jacobs received his MPA in urban affairs from AU in 1976 after receiving a BA from Boston University in 1973. Gary currently serves on the School of Public Affairs Board of Advisors. He has a vast background in healthcare and healthcare management. Gary specializes in Medicare Advantage, Medicaid, long term care and payer/provider collaborations. He currently is president of Village Medical at Home. Village at Home brings primary-based home care services to the patient's home to provide care for homebound and chronically ill patients through an interdisciplinary team of physicians, nurse practitioners, RNs, therapists, pharmacists, behavioralists, and caregivers.
Dr. Sara Nieves-Grafals, CAS/BS '75, CAS/MA '79, CAS/PhD '80

Retired Clinical Psychologist

Now retired, Dr. Sara Nieves-Grafals spent 32 years as a psychotherapist and psychodiagnostician and published professional articles about the diagnosis and treatment of trauma with a special focus on traumatized refugee populations. 
Currently she is a member of the College of Arts and Sciences Advisory Board and the Latino Alumni Alliance Leadership Circle. She also has served as vice president of the Alumni Board and on the AU President's Council on Diversity and Inclusion. 
Originally from Puerto Rico, Sara focused her professional practice on cross-cultural adaptation and posttraumatic stress disorder and worked with people from all over the world, aided by her language skills and extensive knowledge of global cultures. A native Spanish speaker, she speaks a total of five languages and has travel command of four more.
Her love of world exploration, cultures, and cooking also led to the publication of a travel cookbook and magazine articles co-written with her husband, Al Getz. 
Rising Star Award 
This award recognizes recent American University who are making significant contributions to society through their professional or philanthropic work.
William Hubbard, SPExS/WSP '10, SIS/BA '11

Chief of Staff, Student Veterans of America
Will Hubbard joined the professional staff of Student Veterans of America to develop the organization's policy work and served as Vice President of Government Affairs for four years. He has testified to Congress on a variety of topics related to higher education and veterans and regularly advises the White House and senior administration officials regarding the interests of student veterans and higher education policy.
Will also spent several years serving government agencies to include the Department of the Navy, Department of State, and the State of Indiana Department of Revenue in his role as a Federal Strategy and Operations Consultant at Deloitte Consulting.
Will joined the Marine Corps Reserve in 2006 and initially served with Second Battalion, 24th Marines. Today, he continues to serve an intelligence team in Quantico, Va. 
Charlie Wachtel, SOC/BA '08
Academy Award Winner
Co-Writer, BlackKklansman
Charlie Wachtel is an Oscar-winning screenwriter, filmmaker, and co-producer of BlacKkKlansman. Charlie is from East Brunswick, New Jersey, and a graduate of the acclaimed FAMU Film School in Prague and American University. He got his start in LA as a Hollywood assistant before working in advertising as a copywriter. Charlie and his writing partner are currently penning an action-thriller called Thacher Island for Disney and Berlanti Productions, which is an adaptation of the book Animal by New York Times bestselling author Casey Sherman.