Alumni
AU Alumni Among 2020 Election Winners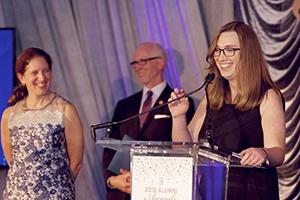 AU alumni are changemakers, active citizens, community leaders. In 2020 elections, five alumni Eagles were re-elected as members of Congress, another eight were elected or re-elected to state legislatures, and many more were to posts in local governments.
Among them is Sarah McBride, SPA/BA '13, who will become the nation's first openly transgender  state senator. A former spokesperson for the Human Rights Campaign, McBride won approximately 73% of the vote in Delaware's First District, which includes the city of Wilmington. She is also a former recipient of the AU Alumni Association's Rising Star award.
"I'm incredibly grateful to the residents of Delaware's First Senate District for entrusting me with the responsibility of representing them," McBride said in an email. "Throughout my advocacy and during this campaign, I've drawn on the experiences, friendships, and lessons I gained at AU. My journey in life would not have been possible if not for my time at American."
Do you know alumni who won in recent elections? Share the news by emailing us at alumni@american.edu.