Alumni
Talented and Diverse New Students Join AU's Wonk Community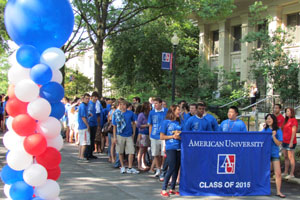 AU welcomed the strongest academic class in university history in late August. These 1,550 new first-year students and 310 transfer students chose AU because they felt it matched their goals and interests. "We have recruited a community of wonks," remarks Director of Admissions Greg Grauman, SOC/BA '99. "They are smart, passionate, engaged, and ready to take advantage of the many opportunities available at American University."
The newly enrolled freshmen demonstrated their academic prowess during the application process and were selected from the largest applicant pool (18,754) in university history, which represented an increase of 10 percent over last year. The university's acceptance rate of 41 percent was the lowest in history, and the Class of 2015 represents a scholarly group who earned an average GPA of 3.82 and a mean SAT Reasoning Test score of 1261 (critical reading + mathematics). 
Students arrived from far and wide to D.C.; first-year students represent 46 states and the District of Columbia and 40 countries, and the freshman class is comprised of 30 percent multicultural students and five percent international students. 
Pleased with the enrollment results for the Class of 2015, AU's admissions team now prepares to seek new students to become matriculated students. Grauman notes, "We will be bringing AU to the world this fall, as we visit 37 states and 20 countries in search of 'best-fit' wonks for the Class of 2016. We look forward to connecting with AU alumni along the way, as we recognize the importance of sharing their success stories with our prospective applicants." Over the next three months, the admissions team will participate in more than 1,500 recruitment events, including high school visits, college fairs, regional information sessions, interviews, and counselors breakfasts.