Alumni
AU Alumni Near You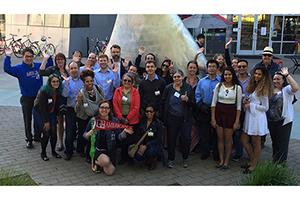 Alumni communities are instrumental in keeping alumni throughout the country connected to American University.  Our alumni communities are led by dedicated volunteers in regions with at least 1,000 alumni residing in a 75-mile radius. Community volunteers play an invaluable role in the Alumni Association from organizing alumni events across the country to recruiting prospective students to AU.
Each year, alumni communities host a series of AU traditions known as signature events designed to connect alumni, students, faculty, and friends of the university across the country.
Signature Events
Eagles in Action
During the month of April, alumni communities participate in service activities as part of the Eagles in Action program. Alumni, students, staff, faculty, parents, and friends of AU come together for the greater good in their communities. By bringing together diverse members of AU's community with a common goal of service, Eagles in Action strengthens the bonds among participants while increasing AU's visibility around the world.
Welcome to the Neighborhood
Welcome to the Neighborhood events offer opportunities for recent grads to celebrate joining the AU Alumni Association. Alumni who live in the same region learn ways to get involved and stay connected to American University. Your alumni community will be the first to give you a big warm welcome to your new neighborhood! See where Welcome to the Neighborhood events are happening.
Find Your Community
The American University Alumni Association has eight alumni communities across the country. Our alumni volunteer leaders hope to meet you at a future event!
Atlanta
Saidi Bakari, Kogod/BSBA '13
Lorena Jordan Decker, Kogod/BSBA '98
Ashley Chandler, SIS/MA '12
Boston
Stacey Mallon, Kogod/BSBA '07
Janina Quilacio, Kogod/ BSBA'13, MS'14 
Chicago
Christina Hecker, SOE/MEd '14
Katie Zahm, SPA/MPA '13
Kim, Quillen, SOC/MA '93
Denver
Peter Salenger, SPA/BA '94
Danielle Artis, SPA/MPA '17
Los Angeles
Zoe Bollinger, SIS/BA '13
Jennifer Cabe, SOC/MA '13
Rachel Froehlich (Rudo), Kogod/MBA '09
Joe Wisniewski, SPA/BS '14
Philadelphia
Michael Lamm, SIS/BA '02
Nicklas Spencer, SOC/BA '00
Marguerite Miller, SOC/BA '76
Evan Lechtman, SPA/BA '99
Fariha Ahmed, SPA/MA '11
Stephen Ferich, Kogod/BS '13
San Francisco
Toby McChesney, SPA/BA '02
Joe Kennedy, SOC/BA '12
ChanMi Park, SOC/MA '10
South Florida
If you are interested in volunteering with the South Florida Alumni Community, please email hobby@american.edu.
Don't see your Community?
Are you interested in hosting an event in your region? If you live in an area where we currently do  not have an alumni community, you can apply for the Alumni Engagement Award. The Alumni Engagement Award Program provides funding and marketing support for programs seeking to engage alumni with a shared affinity to an organization and/or program, enabling the Office of Alumni Relations to extend programmatic benefits to the alumni population.
Volunteer for AU
Regional communities, reunions, admissions, affinity groups, and alliances...There are many opportunities for you to get involved with your Alumni Association.
Whether you want to engage alumni in your hometown, recruit new Eagles to AU, or help plan your student organization reunion, we have an opportunity for you! Find rewarding activities that meet your interest, experience, and schedule. We encourage you to complete the Alumni Volunteer Form.
*New York and Washington, DC are excluded from this list because the university hosts a variety of engagement opportunities in these areas for alumni, including admissions recruitment events, affinity, and school-based programs, and our young alumni chapters.