Alumni
Alumni Audit Program Welcomes Alumni Back into the Classroom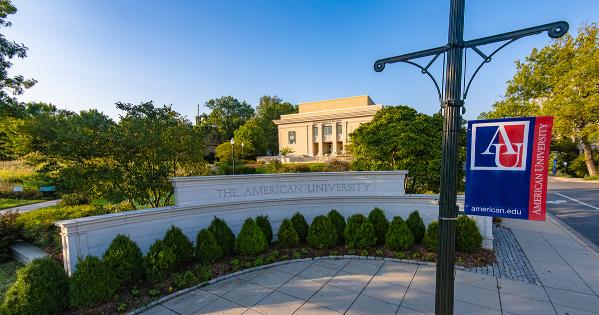 Every semester, the American University Alumni Association invites alumni to return to campus to take a course through the Alumni Audit program. Whether it is for professional development or simply a love of learning, hundreds of undergraduate and graduate alumni audit a course each year. 
Silke Schoch, SIS/BA '17, audited ANTH-639: Understanding Violence in the US last spring and has previously audited JLC-485: Department of Homeland Security Practicum. She shared that she appreciates the new perspectives she gains from students in the classroom. 
"Their ideas and their understanding of the violence happening in the United States opened my eyes to new viewpoints," said Schoch of ANTH-639. "I would love to audit a class every semester if I could! The alumni audit program is my favorite benefit that American University extends to its alumni."
The Alumni Audit program also gives alumni the opportunity to take courses they were unable to while enrolled at AU. Gabriella Neusner, SIS/MA '17, audited SIS-750: Project Design, Monitoring, and Evaluation, a course she was not able to fit in her schedule during her master's program.
"I wanted to take this class while I was a student because I'm interested in how organizations understand the value of their projects and programs, but I did not have room for the class in my schedule. After graduating from AU, I worked in the International Development field for a little over a year, and I found that having a basic understanding of the principles of monitoring and evaluation is very useful," said Neusner. "To me, there is no better way to learn about a complex topic than to take a class."
Due to the pandemic, the program was suspended for the 2020 summer and fall semesters. It was able to resume for the 2021 spring and summer semesters, offering alumni the ability to audit online courses from home. Ted Ringelheim, CAS/BA '68, who enrolled in HIST-456: Twentieth-Century America, has audited a class nearly every semester for the past ten years and was excited to return to the classroom, even if virtually. 
"AU is very special to me, always has been. Every professor I've had, they're excellent, top-notch, and they're all very caring. I love being with the students, that's the best part, besides the professors. The students amaze me with their knowledge and what they have to say on different topics," said Ringelheim. 
When asked what advice he has for fellow alumni who are interested in auditing a course, he responded, "My advice is to take a subject that you really enjoy or you want more information about, then consider how much fun it is to be a student again without doing all the work. You're there just to learn and be with the students."
Ralph Buglass, SOC/MA '77, is also a long-time audit participant. Buglass has been auditing courses every semester since he retired ten years ago. This past spring, he audited BIO-444: The Biology of Birds with Dr. Christopher Tudge. 
"I enjoy walking along the C&O Canal, and getting out to other nature spots, and wanted to be able to better identify birds I see," said Buglass. "Dr. Tudge graciously invited me to come along on the optional birding field trips. His knowledge of birds, and even being able to imitate their calls, was astounding. His overall enthusiasm made even the detailed, scientific aspects of the course compelling."
Professors like Dr. Tudge understand that the audit program not only benefits AU alumni but also AU students. 
"The benefit goes two ways. Having Ralph in my class last semester benefited the class. I had an assignment for the first time where students could write a press release. I've never written a press release, and Ralph spoke up, said he used to be a journalist, and offered to help students write one and offered materials that I then shared online," said Dr. Tudge. 
Abby Quick, CAS/BA '12 & CAS/MA '18, previously audited a calculus course as a refresher before taking more advanced math courses in her graduate program. Now, Quick is a math instructor at AU and is happy to accept alumni auditors into her courses. 
"Alumni open up the discussion," said Quick. "For example, the alum in my classroom asked questions that students in the class wouldn't have asked, asking questions from a non-mathematician perspective. He challenged our assumptions and asked us to think about things we wouldn't have thought otherwise."
Dr. Carl LeVan, SPA/MA '98, now an AU professor for the School of International Service, believes alumni serve as both students and mentors in the classroom and elevate student engagement. He expressed a desire to have more alumni audit his classes and hopes to see more audit participation in the future. 
When asked what he would say to any alumni who are considering auditing a course, Dr. LeVan said, "Your experience is valued. You bring insights and energy into the classroom, you are welcome, and we are excited to have you."
Registration fees collected from the Alumni Audit program fund the Alumni Association Scholarship, which is awarded each year to one first-year student with demonstrated financial need whose parent or grandparent also attended AU. The program also supports AU's Strategic Plan, Changemakers for a Changing World, by promoting lifelong learning. 
For more information about the Alumni Audit program, visit https://www.american.edu/alumni/benefits/education/alumni-audit/index.cfm.