Alumni
New Program Pairs Alumni with First-Year Classes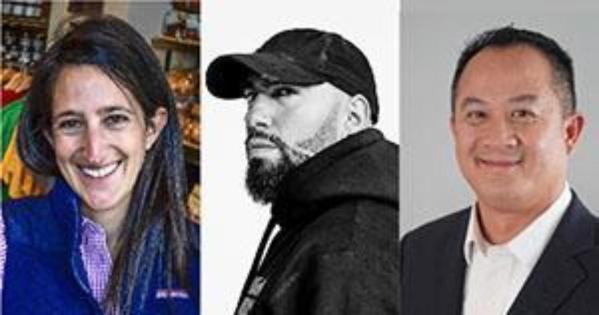 The AU Alumni Association, in partnership with the provost's office, recently issued a call for guest speakers to its closest alumni volunteers, including current and former Alumni Board members, affinity and young alumni volunteers. 
"It's been such a wonderful opportunity to have so many alumni experts volunteer their time to speak with first-year students in the Complex Problems program. The conversations add a richness and sense of connection for our students that brings some really complex topics into a real-life experience," said Richard Duncan, program manager for the University College. "Especially during these challenging times, the alumni are offering students a real chance to connect to AU." 
More than 30 volunteers responded enthusiastically and are contributing in various ways; from offering field-specific career advice to participating as guest lecturers and panelists, alumni are a unique boon to current students during an atypical year. 
John Morada, CAS/BS '00, recalled how his senior computer science professor and faculty advisor, Dr. Tim Bergin, altered his perspective about what it meant to give back to his alma mater. After transferring from Virginia Tech to AU as an undergraduate, Morada found a mentor in Bergin, who pushed him to excel. 
"The lessons he taught me because he was so involved in my career through AU, that's why I give back," Morada said. "Now I take his enthusiasm, I take his dedication and I try to bring it back to the alma mater that helped me become what I am today."
Since graduating from AU, Morada has enjoyed a successful career in Silicon Valley, currently managing enterprise systems for Ellie Mae, the leading cloud-based platform provider for the mortgage industry. He has maintained strong ties to American in many forms, including as an Alumni Board member and leader of the San Francisco chapter of the Alumni Association. 
On October 13, Morada gave a presentation to students regarding successful and unsuccessful companies in Silicon Valley to students in the "Competitive Advantage in Business" course. He imparted lessons learned first-hand about the fast-paced lifestyle of Silicon Valley in hopes that he could better prepare his students of the day for the unforgiving real world.
Daniel Leon-Davis, SIS/BA '13, will participate in the seminar "Immigrant America" on October 23. Leon-Davis is a successful creative strategist who co-founded The Soze Agency and now works as a consultant through his own design studio, Hard Reset Studios. In class, he will speak about his personal journey as an undocumented immigrant, his current work, and what the community can do to help lift up the stories of immigrants around the nation. Leon-Davis, who was a first-generation college student, credits AU with his success and claims that without AU, he wouldn't be who he is today.
"I hope that, through this conversation, [students] will think differently about the work they will do in the future and how they can utilize everything they know to tell the stories of others," he says.
Some AU alumni are even calling into classes from across the globe. Tighe Wall, Kogod/MBA '11, a digital strategist who recently lived and worked in both London and Germany, will speak to students in the  "Welcome to the Anthropocene" course from his current home in New Zealand. He will discuss the importance of decarbonization and how technology enables it. He also will lead a case study comparing the approaches of Germany, the Netherlands, and New Zealand, all countries in which he has lived and worked.
Alumni also are hosting students as part of an Election Campaign Coffee Talk series. Danielle Vogel, WCL/JD '07, hopes that her experience will give students a deeper understanding of current events as they finalize their decisions ahead of this year's presidential election. After developing climate change policy on Capitol Hill for a decade, Vogel opened a sustainable grocery store—Glen's Garden Market in DC's Dupont Circle—with the goal of more directly benefiting the environment. She also will teach a social impact course next semester focused on encouraging students to identify their dream jobs and setting them up to land it after graduation. 
"My favorite part of going to AU was the access that we had to interesting opportunities to engage with policymakers," Vogel said. "I wanted to take the opportunity to give [students] a bit of the Washington touch, even if they aren't in Washington this semester."
Alumni offering their time and expertise are bonded by a common appreciation for the university and a drive to give back to the community. These alumni seek to open new doors of learning and opportunity for students who've had other doors closed because of the coronavirus pandemic. 
"AU has an amazing community, and I know that our alumni community will only continue to grow and get stronger as more people get involved. To get involved, you don't have to give a lot of time," Leon-Davis said. "You can have coffee with a current student, donate, or if you do have more time, you can serve in a leadership capacity on the Alumni Board or for identity-based alliances."