Alumni
AU API Community Commemorates API Heritage Month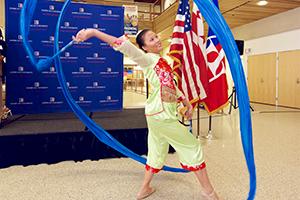 May is the month to celebrate the Asian and Pacific and Islander community, culture, and heritage. The AU Asian and Pacific Islander Alumni Network seeks to celebrate community and identity with a special pop-up festival on May 18. 
In true Eagle fashion, when the AU API affinity group was in its infancy, there was much debate and examination regarding how this group would be defined. The founding leaders, Yumi Villatoro, SIS/BA '11, Michele Le, SPA/BA '15, and Ritanch Hans, SIS/BA '13, Kogod/MA '15, were cognizant that this community encompasses several different identities. The group wanted to highlight the uniqueness of these identities while creating a shared network for all of these Eagles. Therefore, when articulating a mission, they were very intentional about welcoming everyone to create a community at their alma matter to champion alumni and students who identify as Asian/Pacific Islander. 
Two years after its inception, the AU APIAN community has grown to become the home of alumni who identify as Chinese American, Korean American, Indian American, Filipino American, international Eagles, and even more. The current leadership, Kathy Kim, SIS/MA ' 16, Don Mike Mendoza, SOC/BA '10, SOC/MA '17, Tong Liu, Kogod/MS '16, and Benjamin Zenker, SOC/BA '16, have continued the legacy of bringing alumni together in meaningful ways. 
This year, APIAN seeks to commemorate API heritage month by continuing to celebrate diversity in authentic fashion to include hosting the first AU Asian and Pacific Islander Pop-Up Festival. This event will feature TED style talks around the theme "the uniqueness you bring to your professional and personal roles that you attribute to your culture." Since no celebration of culture is complete without food, the event also will feature hors d'oeuvres from regions representing the community. 
The AU API leadership circle would love for all Eagles to come out and show their support for the AU API Community!