Alumni
Another Year, Another Happy Ending From Our AU Sweethearts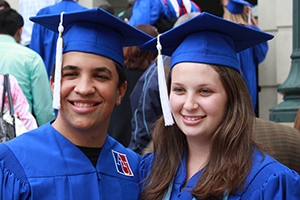 Lisa Gabrielson, SOC/BA '13, and Charlie McCurdy SPA/BA '13, might be tying the knot this December in Rhode Island (congrats!), but like over 2,500 other American University alumni couples – their journey together began at AU. We talked to Lisa and Charlie as part of our AU Sweethearts Social Media project.
For the fourth year in a row, we are collecting and sharing stories of couples who met at AU. Through Facebook comments, tweets, and submissions to our website, we have heard many wonderful stories, and we will continue to showcase AU couples throughout the month of February. You can fill out this questionnaire, tell your story (include a photo!) on our Facebook wall, or share stories and photos on Twitter and Instagram using #AUSweethearts.
Describe how you met and your first impressions of each other.
Lisa: We ran into each other a lot in McDowell freshman year (he lived the floor below me), but I don't think Charlie remembers. We really met during a study group in the library! I actually wanted to set him up with a friend, but it didn't work out and we ended up together.
Charlie: Lisa and I met in a study cube in Bender Library. I thought she was beautiful and had a wonderful sense of humor. Lisa was trying to set me up with one of her friends and it didn't take me long to realize I didn't want to be set up -- I wanted to go to out
with her!
Describe your first date.
Lisa: We went to the Zoo! They just had a new litter of baby lions and we went to go visit. I don't remember much detail about the day (5 1/2 years ago!) but it was COLD.
Charlie: Our first real date was to the National Zoo. It was November and a bit chilly but it was one of the most fun days I've had in DC.
What is your favorite AU memory together?
Lisa: We dated for 3 years at AU and had a lot of sorority and fraternity formals we attended, and those were always fun! We spent a lot of time hanging out in MGC and on the Quad, and our friends would mingle and get close as a group, which led to some awesome memories. Senior year, we went on a double date with our friends Nick Pilipowskyj and Becky Gordon, who are now engaged and will be married in May 2016! (sidenote: Congrats to Nick and Becky as well!)
Charlie: Hanging out on the quad on the first nice days of spring sophomore and junior year.
Describe the proposal.
Lisa: Charlie totally surprised me! I had a feeling he might propose on our trip to Florida over New Years, but when I got off the plane and his family was nowhere to be found (I knew they wouldn't miss it!) I assumed it might be another time. He completely caught me off guard when he proposed at baggage claim. It was sweet, because we've spent
the three-ish years since graduation long distance, and all of our reunions during
that time happened at airports!
Charlie: I wanted to surprise her and knew my only opportunity to do so was picking her up at the airport over the Christmas holiday. I surprised her right before we got ready to leave at the baggage claim. I asked if she had everything she needed, and when she said
yes I asked "are you sure?" And took the box out of my pocket!
Anything else you'd like to add?

Lisa: We're getting married in Newport, RI where we now live, in December of this year!
Charlie: You know you're an AU couple when one lives in the Berkshire, and one the Greenbrier, and your windows face each other so you hold up goofy signs and wave across the parking lot.