Alumni
AU Library Sets the Stage for this #AUSweethearts Couple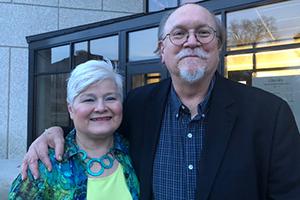 Forty years ago last month, Jim Roberts, SIS/MA '80, SIS/PhD '89, and Elaine Vaurio, SIS/MA '79, had a conversation on the steps of the AU library that changed the course of their lives. 
Jim had been working on his master's thesis and stepped outside to take a break. It was then that he bumped into Elaine, who had recently finished her own master's thesis and was headed in to return some books. Prior to this encounter, they'd known one another casually for about year, having been students together in a class.  
"We began to talk on the steps and decided to get some coffee in the Mary Graydon Center. We talked for about an hour. When we parted, I asked if she would like to go out," recalled Jim. Luckily, Elaine agreed, and a week later they were headed to a comedy club for their first date. The pair hit it off. On April 17, 1982, Jim and Elaine were married, and this year they will celebrate 38 years of marriage. 
After completing their respective degree programs, Elaine went to work for the US Government Accountability Office where she spent more than 30 years, while Jim returned to AU for a PhD in international relations and is now in his 31st year as professor of political science at Towson University. They're also proud parents to a daughter who recently graduated from Temple University.
With the 40th anniversary of their first date on the horizon, Jim and Elaine decided to reenact the moment that changed their lives. On Saturday, January 11, 2020, they returned to the steps of the AU library, took a photo, and headed off to (where else?) a comedy club to commemorate the occasion. 
According to Jim, "Our ties to American University are strong – both academically and personally. If not for that library, we may never have met and forged a wonderful life together."
Did you meet your partner while at AU? If so, we want to hear from you. Share your story on social media using the hashtag #AUSweethearts!