Alumni
Double Date Brings #AUSweethearts Together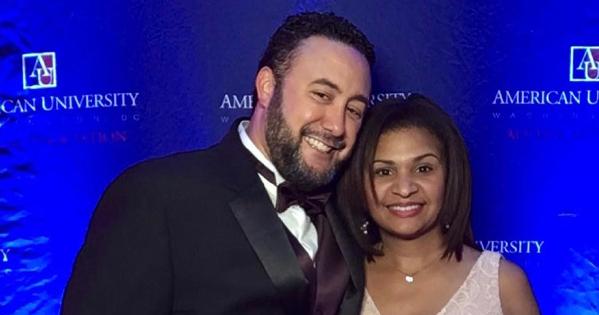 When Bradley White, SPA/BA '99, WCL/JD '07, accompanied his friends on a double dinner date in the summer of 1999, the last thing he expected was to meet his future wife. Katya White, Kogod/MBA '05, was attending Howard University at the time and joined her roommate on the same double date. Katya and Bradley's roommates were interning together at Channel 7 and had hit it off but chose to invite their respective roommates to ease the tension. 
Neither Bradley nor Katya were looking for a relationship at the time, but they quickly bonded over teasing their roommates' flirtations. The two grew close over the course of several such double dates until their first "real" date transpired as somewhat of a happy accident, according to the couple. One summer day, their group of friends had planned to visit Six Flags until everyone canceled at the last moment, leaving Bradley and Katya to go it alone. 
"We love rollercoasters and each other's company, so it really worked out," Bradley says. Soon after that day, the pair started officially dating. Bradley recalls many summer nights spent outside McDowell Hall, waiting for Katya's cab to arrive and take her back to Howard. 
"I cherish those memories," Bradley says. "Katya and starlight — it just works for me." 
After two years of dating, Bradley and Katya married in 2001.
Katya began attending AU in 2003 to pursue an MBA in finance while in the same year, Bradley achieved double Eagle status by starting classes at WCL for his JD. 
Katya notes that throughout their 22 years together, the couple has built each other up in the face of hardship. 
"We were both struggling. We were both broke," Katya says. "But over the years, [...] we've been very successful together and encouraged each other."
Today, Katya works as assistant vice president of financial planning and gift administration at Georgetown University. Bradley is senior director of FOIA litigation, appeals, and policy at the U.S. Department of Homeland Security. 
Outside of their professional successes, they're also proud to have raised a son and daughter, who Bradley hopes he can sway to attend AU. 
Bradley and Katya have also remained engaged on campus since graduating. Bradley is a member of the alumni board, former chair of the Black alumni alliance, and he's the founding chair of the gospel choir alumni network at AU. 
"AU is where it started for us," Bradley says. "I tell folks all the time I wouldn't have my wife or my two kids without it."
Did you too meet your partner while at AU? Share your story on social media using the hashtag #AUSweethearts!