Alumni
Career Comes Full Circle for Alumni Board Member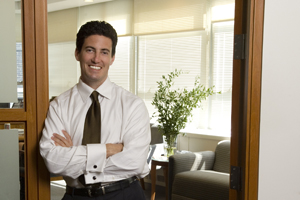 Hanging on the wall of Alumni Board member Andy Block's new home in Brooklyn, N.Y. is a framed Kennedy Political Union poster advertising President Clinton's recent visit to AU's campus as "Wonk of the Year."  President Clinton signed the poster, "Thanks for bringing me back," an ode to Block, SPA/BA '03, for working with Clinton staffer Justin Cooper, SPA/BA '00, to negotiate his return visit to American University after 15 years.  Andy considers that speaking engagement his most meaningful professional experience to date, and, as executive vice president at The Harry Walker Agency, the nation's first and arguably foremost speaker's agency, that's really saying something.
For Andy, Clinton's visit to AU felt like his career coming full circle.  He actually credits President Clinton with bringing him to Harry Walker seven years ago.  As an undergrad, Andy was a White House intern in President Clinton's Office of Scheduling and Advance.  After graduating from AU, he worked on the Kerry/Edwards presidential campaign in D.C., and when the campaign ended, he moved to New York City in search of a job. 
Colleagues from his time interning with the former President put Andy in touch with Harry Walker, Clinton's speaker's agency.  Starting as a logistics coordinator handling speakers and preparing them for events, Andy quickly advanced through the ranks and now serves as the executive vice president in charge of speaker management.  His department manages the relationships with speakers, which include the likes of President Clinton, Vice Presidents Al Gore and Dick Cheney, Karl Rove, Barbara Walters, Michael Eisner, and Cokie Roberts.
While seven years may be a long time to stay in one place these days, Andy clearly loves both what he does and where he does it.  "It's an honor to work at a place that represents the world's foremost speakers and thought leaders.  These are the people that everyone reads about," he says.  While there's no average day, Andy's responsibilities involve the front-end of the invitation to speakers and working with them to secure the deal, as well as looking ahead to future speakers the agency wants to sign.  His favorite days are the "fire drills," when his team is triaging multiple speaker invitations and contract negotiations.
Andy's quick rise through the company, particularly given his youth, is no surprise.  He was motivated and driven as a student as well, entering the School of Public Affairs Leadership Program as a freshman and tackling three internships in four years, including one with the White House during a millennium event in 2000.  A political science major and foreign policy minor, Andy has fond memories of several classes and professors at AU, but in particular recalls a course on the civil rights movement with Julian Bond, then the sitting chairman of the NAACP.  "What better reason to study at AU than opportunities like that, to learn about the civil rights movement from someone who actually lived it?  That class was a premiere academic highlight for me."
One of the newest members of the AU Alumni Board, as well as a leader for the recently launched New York Young Alumni Chapter, Andy is thrilled to be engaged with his alma mater as a volunteer.  He has remained friends with many of his former classmates (he is actually volunteering for 2006 Rising Star Award winner Ken Biberaj's, SPA/BA '02, campaign for New York City Council) and is looking forward to pulling many of them back into the AU fold.  "I'm finally in a place, both personally and professionally, where I can give back to a place that gave so much to me.  I loved my time there and I appreciate the opportunity to get involved," he says.