Alumni
An Unexpected Path to Becoming a Changemaker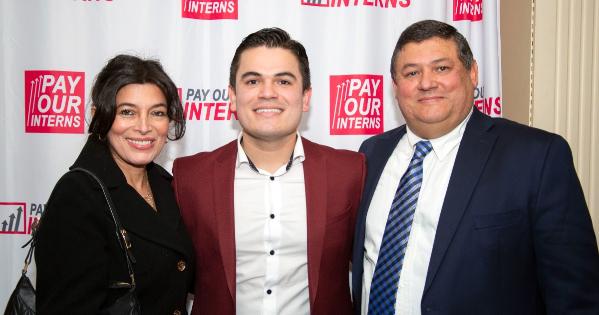 American University alumnus and Pay Our Interns founder Carlos Mark Vera, SPA/BA '20, wasn't always an activist. After he immigrated from Colombia to the United States at five years old, Carlos lived a comfortable life in southern California — until medical bills and the housing crisis led to his home's foreclosure. The family began using SNAP benefits.
"I joke around and say that I have a riches to rags story," Carlos said. "But during that ordeal in middle school, my dad told me if I don't study hard, I wasn't going to college. That really motivated me."
So Carlos did study hard; he took classes at his community college concurrently with his high school curriculum. This academic rigor got him an acceptance letter from American University in 2011. 
"Having seen all that, I started realizing the power of politics," Carlos said. "People say they're not interested in politics, but politics will take into policy whose roads get paved, what schools are funded, how much we spend on SNAP. So I was like, 'There's no better place than DC."
Though Carlos came to school energized to lead change, he says that the cross-country move and college transition "wasn't exactly easy." While his classmates acclimated to freshman year, he began working right away to pay bills. In addition to his employment and academics, Carlos became an AU Ambassador and SIS Undergraduate Council Member, and held multiple political internships in Washington and abroad. 
"From the start, it was a struggle," Carlos said. "Like in Congress, not having professional clothing for the internship. These are things I don't think folks always understand, all the costs that you have to account for when you do an internship, especially in DC. My whole family had to pitch in to buy me another suit, but it wasn't even enough."
When Carlos wasn't interning, working, or studying, he devoted his time to campus activism; his work helped establish a scholarship fund for the children of subcontracted campus employees.
But Carlos says that the activism he did came at the cost of his mental health. By 2016, he was failing to show up to class, and his grades suffered; he dropped out of school and went to work at a communications firm.
All the while, he pondered the quiet but omnipresent fact of an early career in Washington: balancing clubs, school, and interning can be demanding, especially when interns are not paid for their labor and required to work a job on top of it all to stay financially afloat. 
When Carlos' mentee admitted to him he had skipped buying groceries to pay for the dry cleaning costs for his unpaid internships, Carlos realized the established internship culture needed a change — and he was ready to be the voice. 
Carlos established his nonprofit organization Pay Our Interns in November 2016 with fellow AU student Guillermo Creamer Jr.
The organization helped establish a $14 million bipartisan bill that provides Congress funds to pay its roughly 10,000 yearly interns. The fund has increased each year since the bill passed in 2017, and today it provides $17 million in funding, totaling $48 million so far. Each House office receives $25,000, and Senate offices get up to $80,000 based on state population.
Now the executive director of a nonprofit that partners with organizations like Democracy Fund and Open Society Foundations, Carlos hopes to continue expanding Pay Our Interns' reach to state legislatures and other national bureaus. Their work has also helped to secure $10 million for State Department internships and $4.5 million for White House internships in 2022, which they hope will be passed this coming February as part of the FY22 annual funding bill.
With his organization well established, Carlos returned to American University in 2019 to finish his bachelor's degree, graduating with a political science degree in 2020. Though he's had several features in publications like the Washington Post and was named to a Forbes 30 Under 30 list, Carlos says that he tries to remain humble and tell his story. 
"My highlight of going back to school was on the last day for a final. The girl who sat next to me said, 'I just wanted to thank you because I was able to intern on the Hill,'" Carlos said. "That, for me, meant more than any other award or recognition."
Now on a mission to end unpaid internships across the country, Carlos wants to remind people that there is no rush and that we all have our own journeys.
"A lot of opportunities I have and where I'm at is in part due to AU," Carlos said. "I don't know if I'd gone to a different school, if I would have ended up at the White House or European Parliament or done any of this. I don't think that would have been the case. I am really grateful to AU."