Alumni
Celebrating Volunteerism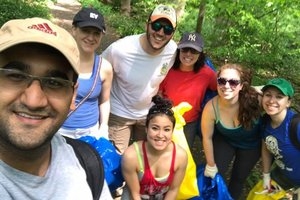 It is National Volunteer Month! April is all about celebrating service, encouraging volunteerism, and honoring the volunteers serving our community. As an institution, AU is committed to making a positive impact on the world through service. And more than 2,300 alumni volunteers serve as ambassadors for AU, engage alumni in their local communities, recruit new Eagles, help plan All-American Weekend, and provide career assistance and mentorship to current students.
Alumni volunteers reflect upon the importance of volunteerism and their reasons for giving back:
I believe very strongly in giving back to your community and to those who have helped you. My time at AU helped to shape who I am today; I love being able to help others, whether it's through admissions volunteerism or serving on the alumni board. It's very fulfilling to be a part of such an important mission as that of American University.
-Amy Lampert, SOC/BA '94
I volunteer and give to AU because of all that AU has given to me. AU is a wonderful institution, where a student can grow and develop into a conscientious and well-informed individual. As a first-generation college graduate, AU has forever shaped my life, and I am always grateful.
-Christopher Quintyne, SPA/BA '07
"The education and connections that I received while attending AU have served me well over the years. I have looked for ways to serve the university through volunteering. Whether it's visiting the campus, speaking on panels, or co-chairing the Women's Network, interacting with students and alums has given me an opportunity to share AU's impact on my life and career."
- Lori George Billingsley, SOC/MA '91
Alumni volunteers are changemakers on and off campus. With opportunities all over the country, including Eagles in Action: A Coordinated Day of Community Service on April 28, volunteers make an impact on their communities from cleaning up trash to serving food and beyond. In the spirit of service, learn about the many ways to volunteer and get involved today!