Alumni
Class of 2023 Profile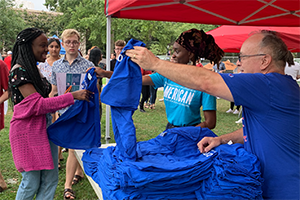 With 18,500 applicants this year and an admit rate of 33 percent, AU's incoming undergraduate class embodies excellence at every level. This bring the university's total enrollment to 14,311, with 8,287 undergraduates and 6,024 graduate and law students. 
The middle 50 percent GPA of admitted students for the Class of 2023 was 3.53-4.06, and the middle 50 percent SAT score was 1260-1420. More than seven percent of AU's newest Eagles are first generation students; over eight percent are international students representing more than 123 countries. 
The Office of Undergraduate Admissions' holistic approach to making enrollment decisions helped to identify candidates for admission who are a great fit for AU – including students who are intellectually curious and passionate about creating meaningful change. 
Alumni volunteers and donors had a great impact on this year's successful recruitment outcomes. During this admissions cycle, more than 200 volunteers assisted with college fairs, information sessions, interviews, admitted student events, summer send-offs, and more. Volunteering to support our newest and future Eagles is critical to the mission of the university, and we could not do it without you! 
Interested in getting involved? Visit our Alumni Admissions Volunteers website to sign up for upcoming information sessions and other volunteer opportunities this fall.