Alumni
Bridging Connections for AU Aguilas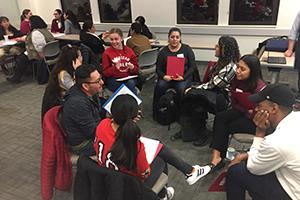 As the country prepares to kick off National Hispanic Heritage Month, we think of all the wonderful contributions Latinos have made throughout U.S. history. 
From Civil War Admiral David G. Farragut to union leaders César Chávez and Dolores Huerta, baseball's Roberto Clemente, Nobel Prize winner Severo Ochoa and Supreme Court Justice Sonia Sotomayor, the list of Latinos who have empowered U.S. communities is endless.
While AU honors the cultures and contributions of Hispanic and Latino American members of our society all year long, we also welcome opportunities to do so. Our Latino alumni community, affectionately called AU Aguilas, is creating even more opportunities to empower their community, particularly connecting more personally with students. 
With an interest in supporting Latino students' educational goals, Vincent Chapa, SIS/BA '13, co-founder of the Latino and Hispanic Faculty and Staff Affinity Group (LHFSA) at American University, partners with committed members of the AU Aguilas community to launch a new mentoring program enhance the college experience of Hispanic students.  "As these students prepare to navigate college, faculty and staff mentors have volunteered to assist them on their journeys," says Vincent. 
Participating in a mentoring relationship expands the opportunity for our LatinX students to deepen their relationship with the university and feel comfortable, welcomed and valued by receiving support from caring mentors who share similar cultural experiences," Vincent says. Through the Inclusive Excellence mini grant, AU Latino and Hispanic Mentorship Program will 1) build a supportive bridge of connections between constituencies and 2) support personal and professional growth through meaningful dialogue."
The Latino Alumni Alliance recently celebrated the endowment of the LAA Book Award. Thanks to generous members of the AU Community, the LAA Book Award will offer financial support to AU's LatinX students in perpetuity. "The LAA Book Award is promoting access and equity, and I am proud to be a part of a community that works to empower Eagles at every level," said Angela Gonzalez, co-chair of the Latino Alumni Alliance. 
The LHFSA looks forward to partnering with LAA volunteers on future initiatives to continue empowering the Aguilas community to thrive on campus and celebrate their culture while at AU.