Alumni
WCL Alumna Chooses a Direct, Creative Approach to Climate Change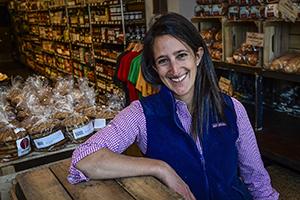 Walk inside and you'll be greeted with a neighborly smile and the scent of espresso. Stacks of local beverages, bright bundles of fresh produce, and unassuming shelves full of both new and familiar snacks await you at Glen's Garden Market, located at S and 20th Streets NW in DC's Dupont Circle neighborhood. However, founder Danielle Vogel, WCL/JD '07, has a mission bigger than Glen's physical space. 
Danielle opened Glen's Garden Market on Earth Day in 2013. Her journey to small business ownership is rooted in her passion to effect change. Growing up she wanted to move from Connecticut to Capitol Hill, work for her hometown Congressman, and influence federal policymaking. While she did not have an interest in going to law school, there was always an expectation that she would. "Girls, you can be whatever you want to be when you grow up, after your federal clerkships," her mother would say, as if law school were a prerequisite to life. Danielle ultimately chose AU's Washington College of Law to pursue her degree. 
"I chose AU and had a spectacular experience, not only because of its proximity to Capitol Hill. I was able to do incredible internships and clerkships while I was a student, and when I wanted to focus my studies and there weren't classes to support those areas of interest, the deans added them to the curriculum. I asked the deans to add campaign finance classes, and they did it! They funded that expansion of the curriculum just to support my curiosity - which built a loyalty to AU that is indelible to me," says Danielle. 
When it became clear that federal policy advocacy and advising were too slow and tumultuous for her, Danielle took her knowledge and motivation to make climate change progress to the store—the grocery store! Glen's Garden Market's mission is to make incremental climate change progress, one bite at a time, by growing relationships with producers who treat their land, animals, and ingredients with respect. "While I only practiced law for two years, the education I got at AU has served me every single day of my life as a business owner. I am paying back my debt to AU continuously. It truly prepared me to succeed in business."  
Glen's exists to encourage, educate, and engage the community around sustainable food choices. Some of Danielle's savvy and subliminal tricks include:
- Listing vegan and vegetarian items on top of menus, because often we order the first thing we read.
- Deflating the price of the all-vegetarian salad combo. "If people are shopping from a perspective of price consciousness, we are appealing to leave meat off of their plate without them even realizing it." 
She also started a radio show, Everyday Enviro, to provide insight into multiple levels of sustainability and share tips to reduce your overall carbon footprint. "Each week I sit down to think about an approach to sustainability that is not necessarily intuitive, but which touches people's lives on a regular basis." 
Danielle has had four distinct careers in her life - retailer, lawyer, policy advocate, and Capitol Hill advisor. "In my heart the path has been very linear; externally it looks like I have no idea what I want to do in this world," she says. For students and alumni, Danielle has encouraging words: "Your path does not need to seem logical to anyone else as long as the steps are authentic to you. At the end of the day, the most important thing is to stay resilient."  
Danielle serves AU as a member of the American University Alumni Board. She also is a regular guest lecturer on campus.