Alumni
World-Traveling Alumna Follows her Fair Trade Dreams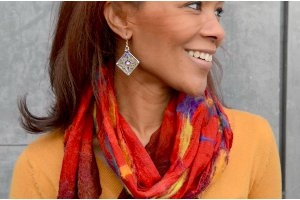 Qimmah Najeeullah, SIS/MA '09, credits AU with assisting her life both personally and professionally – and with helping to enhance and sustain her position as a global citizen.

Raised as a Muslim on Staten Island by her environmentalist father and physician mother, Najeeullah became keenly aware early in life of her duties and responsibilities to the world.

"Growing up, my faith had me and my family occupying a unique niche. The leadership that I was raised under as a Muslim, African-American woman made sure that I knew that I had a distinctive purpose and responsibility that was dedicated to contributing to society. Accepting this inherited purpose and responsibility meant that I had a specific duty to produce and to enhance life for others," she says.

In the interest of carrying out her familial and community duties, she attended the University of Maryland College Park – with a short stint at the Pontifical Catholic University of Rio de Janiero, Brazil – and earned a BA in Art History. Following this, she solidified her higher education foundation when she completed her MA studies in AU's International Peace and Conflict Resolution program. She recalls Professors John King and Julie Mertus, the latter her thesis advisor, as two AU professionals who thoroughly educated and advised her for the future.

"One of the main things that I received from AU was a better understanding of the socio-economic situations of others and the larger impact of these situations on the world. This tool, along with others provided by AU's academic team, made me a better critical thinker, a better communicator and a better writer," she says.  

Following her matriculation through AU, Najeeullah served as a Peace Corps volunteer in Turkmenistan, and later took a position as a director of the "Break the Chain Campaign" at the Institute for Policy Studies in Washington. In this position, she was charged with managing culturally competent social service and advocacy support for migrant domestic workers and human trafficking survivors. Her responsibilities took her to Brazil, Thailand and 20 other countries.

Her talents next led her to a directorship at DC's Manuel Zapata Olivella Center for Afro-Latino Development. There, she helped ethnic minority-owned small businesses and nonprofits become sustainable entities. It was at this point that she was inspired to bring a long-held dream to reality: successfully starting and managing her own entrepreneurial entity. So, while living in Morocco with her two children, she conceived of a high-end fair trade art/accessory company that would unite her familial and religious goals with her education and her experiences as a seasoned traveler. Thus, the SAFA Gallery had its beginning.

SAFA (an Arabic word meaning "purity" or "clarity"), a Baltimore-based entity, imports handmade and uniquely-designed women's footwear, hand bags, scarves and jewelry from North Africa for global use. The company, which operates in accordance with Fair-Trade guidelines, seeks to create a win-win situation for the small manufacturers and artisans in the African Diaspora that produce these items by raising visibility and awareness of their unique talents and abilities. Working closely with SCORE (Service Corps of Retired Executives) personnel in Baltimore, Najeeullah fine-tuned the costs, shipping, warehousing and other variables from start-up to the first few months of 2012 sales. Success came from these efforts in the form of a full retail website, exhibitions at three major U.S. trade shows – and eventually five-figure sales numbers. Additionally, SAFA Gallery from the outset holds itself accountable to environmentally conscious operations and design practices – which is directly in line with Najeeullah's personal life and responsibilities.

As she looks forward to expanding SAFA Gallery operations, Najeeullah says, "I will know that I am truly successful when I am able to give back to my community. I'd also like to work with other entrepreneurs to help them become successful."

Spoken like a true SIS alum.