Government & Politics
The Business of Sequestration: Kogod Faculty Sound Off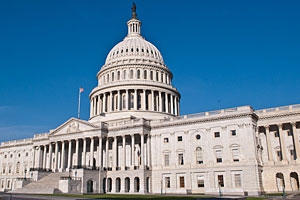 With an automatic $83.5 billion reduction in government spending going into effect now that the March 1 deadline has passed, workers in Washington, D.C. and beyond wonder what tangible effects the sequester will bring. Kogod faculty experts examine the hairy issue with business stakeholders in mind.
Hitting Close to Home
The Washington, D.C. metropolitan economy is likely to be the hardest hit.
"There's going to be a big impact locally for sure," said James Moser, executive-in-residence in the Finance department.
Moser expects the likely layoffs of government contractors and furloughed government employees will impact local businesses first, as people begin tightening household budgets.
"The first thing people usually do when bringing in less income is they start buying lower quality goods at cheaper prices," he explained. "This means an increase in shopping at big box stores and less business for local businesses."
Moser sees the process of household budgeting as a better example for Congress to follow when planning spending cuts. Rather than the broad, sweeping cuts proposed by the sequestration plan, elected officials could be more deliberate in their reductions.
"When employees know less money will be coming in, they prioritize their budget and generally eliminate those expenses that are least likely to negatively impact daily life," he said. "Congress could take a lesson from this and be less sloppy."
Playing Hardball
From a negotiation standpoint, the sequester is a great tactic, according to Associate Professor Mark Clark, an expert in human capital management.
"Sometimes doing nothing is the strongest tool in a negotiation," Clark said. "It's like when you go to buy a car: unless you're willing to walk away from the table without a deal, you're not going to get exactly what you want."
If the government were a business, with the Senate and House representatives as the workforce, Clark believes that a case could be made that President Obama has failed as a manager.
"A good manager might be placing some blame on both sides of the political aisle and encouraging each to make concessions, so business as usual can carry on," Clark said. "Obama hasn't been doing that—so through that lens, he's guilty of mismanagement."
Hurry Up and Wait
The immediate danger to the government and contractor workforce is a passive work attitude brought on by the uncertainty of job security, according to Executive-in-Residence Meredith Persily Lamel.
"When employees don't know if they'll have a job next week or next month, it's very easy to fall into an attitude of 'Why bother?' I think that's what government agencies are probably already seeing."
For a sector that has historically benefited from a reputation as a stable employer, the possible sequester, coupled with other government shutdowns in recent history, has the potential to stain government work going forward, Persily Lamel said.
"Obviously a shutdown is a bad thing for people out of work, but additionally, a lot of people choose agency work for its stability so damaging that reputation is hitting recruitment where it hurts."
Missed Opportunities
Beyond the frustration of partisan politics and job uncertainty, the ongoing budget conflicts represent a missed opportunity in the international scene, says Executive-in-Residence Robert Sicina, former American Express executive.
"While it'd be difficult for our finances to be worse than the EU right now, this mess isn't helping our global image," Sicina said.
Instead of setting an example for countries like Italy and Greece to follow, Sicina sees the U.S. "muddling around" like most of Europe.
"This is a golden moment to be world economic leaders again, and we're missing it."
"A Tiny Step Forward"
Trimming the proposed $85.3 billion from the national budget is a very small step toward fixing a debt problem that dwarfs the sequester, according to Executive-in-Residence Mark Waldman.
"This is just a 1.5 percent reduction, that's just nothing at all," he said.
While Waldman admits the cuts will have a negative impact on some Americans, especially military communities, he sees a worse future on the horizon unless more cost-cutting action happens in the coming years.
"What this country and its budget needs are actual reductions in spending, not just a slowing down of spending," he said. "If we don't see real reductions, likely in the neighborhood of five percent or more, then we're headed for an economic future that would make 2008 look like small change."