Alumni
Eagles Open Doors for One Another Across the Globe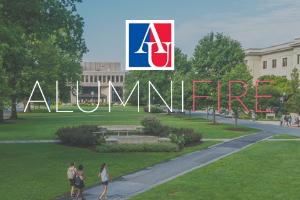 Alumnifire for AU is the university's exclusive online networking platform enabling Eagles to open doors for one another across the globe. With more than 1,800 members across six continents, Alumnifire is a rapidly growing resource for networking and career engagement worldwide. Remain connected to the university community, wherever you call home, through one or more of the following features:
Grow your personal network
Alumnifire for AU is a great way to grow your network, get advice from fellow Eagles, or foster new connections that could lead to your dream job. Search for alumni by industry, company, and/or location, among other searchable fields, and reach out directly through the platform. Post a question to the general feed or in a specific group. Connect with Eagles across the globe and discover your community wherever you go.
Hire fellow Eagles
Know about an incredible job opportunity? Whether you're the one hiring or you've seen the listing elsewhere, the job board is the place to share open positions with the community. You can also add an event to the calendar or promote your own company on the newsfeed. Let your fellow Eagles know what you are up to and invite them to connect, apply, or simply to learn more.
Deepen your engagement
Use the platform to find like-minded people in your area and get together for coffee, lunch, or other activities. Organize an event for the Eagles near you. Re-engage on campus for events such as panels and networking receptions.
Help shape the online alumni community
Joining Alumnifire for AU now affords you the unique opportunity to provide feedback on the platform and help inform the way the Eagle community engages online. Once you join the platform, you will find a link where you can provide feedback to AU staff about what you would like to see from the Alumnifire platform. Tell us what is working and what is not. And don't forget to let us know when you meet another Eagle through Alumnifire!
How to join
Visit american.alumnifire.com to create your free account. Register with your LinkedIn account or an AU email address to be approved as quickly as possible. If you are not automatically approved, enter a comment for the moderators. Entering your AU ID or other identifying information there will expedite the approval process.
If you have questions or issues accessing AlumniFire, please contact Charley Fogel at charleyf@american.edu.