Alumni
From Student Leader to AU Community Leader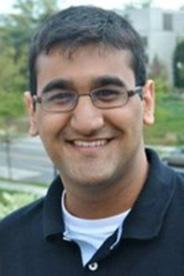 By day, Ritanch Hans, SIS/BA '13, Kogod/MS '15, is a consultant with Grant Thornton. He also, however, lives and breathes American University. At Grant Thornton, Ritanch's newest project has him working with the Florida Division of Emergency Management, assisting individuals impacted by Hurricane Irma in facilitating reimbursements.
As an AU student, Ritanch was captain of the bhangra team, worked the overnight desk at the library, was a financial administrator for the office of student activities, and was an involved student leader. As an alumnus, he remains an engaged member of the AU community, and in fact, he was recently elected president of the DC Young Alumni Community (DCYAC). 
We caught up with him this summer to find out more about his work with the DCYAC. Here's what he had to say:
How did you get involved in the DCYAC?
After I graduated with my master's, I still wanted to stay involved with AU. I had a friend who was always posting about DCYAC events, but it took a while before I got involved at first, as I was under the impression you had to pay to join. FYI, it's free to join. I've been involved for nearly two years now because I really feel like I owe so much to AU for all it's given to me. I just want to make sure I'm able to present the alumni community the best way I can. 
What are you most excited about for the DCYAC this year? 
We do a bunch of different events throughout the year, including happy hours, going to Nationals games…We've even done Bollywood workouts together. We just had our welcome to the neighborhood event, which had 100+ people in attendance and are thinking of planning a trip to a biergarten, as well as a happy hour during All-American Weekend with the New York Young Alumni Chapter. It's amazing. You get to meet new people and reconnect with others—you know, there are always those people you had in class that you never had a chance to speak to and now you do. 
I don't want to just do the typical events. I want to also do events that stand out and reflect AU's diversity. We need to start doing events tailored to our diverse crowd. I love being at AU events, because I have a lot in common with AU people.
Any recommendations for those interested in getting involved? 
I always describe the DCYAC as a group of AU alums who loved our time at AU and are looking to give back to the community. Besides the DCYAC, though, there are so many ways to get involved through the alumni association—from volunteer opportunities to networking and even mentoring of students. I've been mentoring through Kogod this past year, and it's been an amazing experience. Just get involved. The alumni network is a great resource.