Alumni
AU Responds to Government Shutdown with Free Courses for Furloughed Employees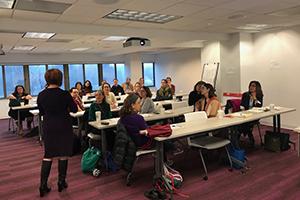 As hundreds of thousands of federal workers faced furlough during the recent government shutdown, American University faculty and staff sprang into action. And many of those furloughed government employees were the beneficiaries. 
AU's School of Public Affairs partnered with faculty and staff from across the university to host "Classes Without Quizzes," a day of workshops, classes, and networking. More than 500 government employees participated in the January 8 event. And the School of Professional and Extended Studies offered 13 in-person sessions during the shutdown on topics ranging from network analysis to the history of presidential pardons. SPExS also partnered with the School of International Service to host several webinars. 
Attendees were by all accounts very grateful that the university offered such incredible resources to alumni and other federal workers. One Department of Homeland Security employee described a feeling of camaraderie and calm while on campus during a time otherwise filled with great stress and anxiety. "American University offering those classes allowed federal employees to come together and network," she said. "It really created a space for us to commiserate…To put things in context in an educational way. It definitely helped people destress."
Alumni Board member London McCloud, Kogod/BSBA '02, helped envision and enact some of the programming on campus. "I thought this was a really good way for AU to give back to the DC community," she said. In her eyes, AU went "above and beyond," particularly in reacting quickly and in some cases providing meals and free parking to participants. "One of the things that really impressed me was AU's ability to be innovative and flexible," London said. "What we did was say 'here's the situation, let's build something around that situation.'"
Building programs around the government shutdown meant people quickly coming together from across campus. SPA's program included yoga with instructors from AU's recreation and fitness department and sessions on topics such as mindfulness led by colleagues in human resources. "People came together and contributed in all sorts of incredible ways," said Raina Lenney, assistant vice president of alumni relations. "And we knew getting the word out to our alumni network would result in great participation."
Staff member Alison Donavon, who was instrumental in the success of the School of Professional and Extended Studies' AU4U series, said "We felt like AU was the perfect place to host all of these service-oriented workers." And many of them agreed.