Alumni
Opera Singer, Alumna Crowned Miss D.C.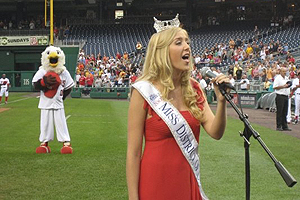 Jennifer Corey, CAS-SPA/BA '09, is a beautiful blonde with a voice as clear as spring water. She and her two sisters—all three singers—were born to a New York recycling contractor and a homemaker. Raised on Long Island, Jen first spoke to AU for an American magazine story in Fall 2005, when as an AU freshman, she stood out as someone to watch. Back then, Jen sang opera and rode horses at her grandfather's farm. She was excited about exploring Washington and remembers telling her parents, "I'm never coming home." She'd found her home in D.C. In July, she was "crowned" by her beloved city -- Jen Corey won Miss D.C. 2009.
Q. When did you start singing? 
A. When I was a baby, I never shut up really. My parents called me "Ethel." When I found out who Ethel Merman was, I cried. Still, I sang all the time and everywhere. My fifth grade chorus teacher told my parents to get me voice lessons, and they did.  
Q. When did you know you wanted a singing career? 
A. I joined the Long Island children's choir in high school and sang at Carnegie Hall. That first song for competition was an Italian art song. I thought it was so much fun that I could sing in another language. Walking out on that stage, seeing my parents in the gorgeous red seats—at that moment I realized this was what I needed to do.
Q. Is there a performance you're particularly proud of? What was your most difficult performance? 
A. I sang the national anthem at a Washington Nationals' game this summer. It was my dad's little boy dream to stand out on the field, and there my parents stood beside me. I've never seen my dad so happy. The most difficult performance for me was when my cousin died, at 24, in a car accident. My aunt asked me to sing at her funeral, and my father cried.  
Q. How did you decide to enter the Miss D.C. competition?
A. It's a funny story. At the beginning of my sophomore year my AU voice teacher, Linda Alison, said: "I've decided what you're going to do—you're going to become Miss America!" Sonya Gavankar, SOC/BA '99, who was Miss D.C. in 1997, had called Linda asking if she had a student who might want to compete for the Miss D.C. title, and Linda thought of me. So I went to an open audition in February 2007 and made the top 15, but I didn't know what to do! My sorority sisters knew another AU student, Alessandra Torres, SOC/BA '99, who had been Miss Teen Maryland and put us together. Alessandra and her mom taught me everything. I was first runner up last year for Miss D.C., and this year I won the title.
Q. How do you square the vanity inherent in a beauty pageant with talent and scholarship? 
A. I am training for an entertainment career. I love opera, and I'm pursuing a master's in opera performance. I work for the Washington National Opera in education and community programs. We want to draw kids into the opera, and I create educational DVD's about the operas we do for schools, especially D.C. schools. It's my job to put the videos together, write, do voice over, and record them.
But as a music major I didn't follow politics when I moved to Washington. Then I took a justice course and loved it. So I graduated with a major in music and a minor in justice.
The Miss D.C. competition pushed me to learn the next piece—I watch CNN, local news, Fox, to get every side of the news. 
D.C. is a great city to represent. Here there's a big push to be intelligent—to be able to talk about political ideas, to state them articulately and not in an offensive way. Leading up to the Miss America Pageant we all perform at many events. In Washington most of the events I speak and sing at are attended by members of Congress, ambassadors, and other very intelligent people.