Alumni
Rising Star in Politics, Academia '01, '02, Recognized for Service to Cleveland Community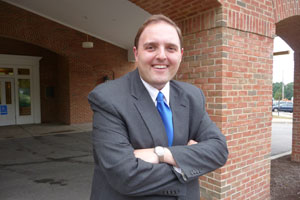 This year's Rising Star award recipient Kevin Malecek, SPA/BA '01, SPA/MA '02, has always had his hand in multiple projects at once. Described as the "AU poster child" by his friends, Malecek has turned his time of multi-tasking at American into a hectic but happy life in which he does what he loves most – interacting with people.
"There is no average day in my life," Malecek says. "I'm constantly on the go."
In addition to his day job as the director of the part-time MBA program at Case Western Reserve University, Malecek serves as the president of the Willoughby Hills City Council and president of the Laketran Board of Trustees, a public transportation service.
He also volunteers with Lake County United Way and New Directions for Living helping with the organizations' fundraisers, and playing Santa Claus at an annual breakfast for area children.
When finding out he received the Rising Star Award because of the services to his community, "I was extremely flattered, very honored and humbled to get it and just to be nominated…especially when looking at past award winners and my colleagues," he says.
Malecek, who was named by Crain's Cleveland Business as one of the top 20 professionals in their 20s in the Cleveland area in 2009, says the best part of his day is interacting with people from all walks of life.
"I've always been a people person," he says. "It permeates every position I have…the satisfaction of knowing you've done something for someone."
Even though Malecek kept quite busy at AU with his involvement in various roles in the student government, from speaker of the undergraduate student assembly, to AUTO commissioner, and many university committees, he also made sure to take advantage of living in D.C. He set up internships with Rep. Dennis Kucinich (D-Ohio) and Sen. Byron L. Dorgan (D-ND) and volunteered for campaigns for congress, governors, and state delegates in Maryland and Virginia.
"American was the best decision of my life," he says – especially because of the networks he developed with friends and colleagues.
Malecek's accomplishments include bringing a free classical concert series to Willoughby Hills, establishing a senior center, blogging for the News-Herald while serving as a delegate during the 2008 Democratic National Convention in Denver, and teaching "Running for Office," a two-week course as part of the Campaign Management Institute at AU during the spring 2010 semester.
"I think my biggest accomplishment is that I've been able to do all the things I've been able to do and have a balanced life," he says, attributing his success – in part – to his philosophy to work "in a bipartisan fashion and always be professional…I have always tried to bring professionalism and decorum and respect to everything I do."
"I have always tried to have an open line of communication with people and dissemble the problems at the lower level before they become big problems."
In the future, Malecek said he is always looking for new options to move up the academic ladder or the political one…For now he's still absorbing the news that he'll receive the 2010 AU Alumni Rising Star award this October during All-American Weekend and he's looking forward to reconnecting with all the AU friends he hasn't seen for a while in the process.