Alumni
Linda Lupo-Rodriguez and Jackie Cirillo-Meisenberg: From Roommates to Legacy Alumni Network Co-chairs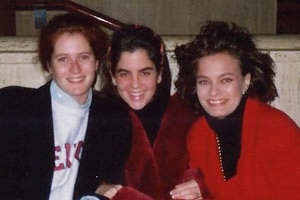 "After all these years and now both our children are attending AU at the same time. This has helped old roommates reconnect….Priceless!"
So says alumna Linda Lupo-Rodriguez, SOC/BA '87, about her long-time friendship with Jackie Cirillo-Meisenburg, SOC/BA '87, which began when they were roommates together at AU.
Linda and Jackie each have a child who attends AU, just as they did almost 30 years ago. Hannah Meisenberg is a sophomore majoring in art history at the College of Arts and Sciences, and Ozzie Rodriguez is a freshman majoring in business administration at the Kogod School of Business.
Like many long-time friends, Linda and Jackie exchanged holiday cards over the decades but hadn't seen each other in many years. Then, three years ago, Jackie wrote to tell Linda that her daughter, Hannah, was going to AU. The following year, Ozzie was accepted to AU. That's when Linda picked up the phone to call her old roommate. "We spent hours on the phone catching up. How could it be? Our kids would be at AU at the same time," Linda exclaims.
Their friendship while attending AU, combined with their children's attendance, has renewed their relationship and brought them together as co-chairs of the AU Legacy Alumni Network. "When I saw Linda for the first time on campus last year, it was as though we had seen each other the night before. Many happy tears ensued," says Jackie.
The Legacy Alumni Network is a new AU network that includes alumni and students who are the children, grandchildren, parents, or grandparents of an American University alumnus/a. It recognizes those families who've made AU a family tradition. This network officially launches in October during All-American Weekend with a legacy breakfast and pinning ceremony.
Linda and Jackie shared an apartment during their junior and senior years on the corner of New Mexico and Cathedral Avenues with Linda Daly, CAS/BA '90. They met when all three lived in Hughes Hall the year before.
Sometimes college students complain about living in a triple but these friends made it work. They shared one small bathroom, learned to keep things clean, and scrounged for quarters to do their laundry. "We dragged what seemed like a hundred pounds of dirty clothes into the basement to wash everything. We laughed a lot. It was a fun time," says Linda Daly.
"Different individuals have habits that can be difficult to deal with as well. For example, Linda Lupo-Rodriguez was a clean freak, and Linda Daly and I were a bit lax in that department. So, Linda would get nuts and start cleaning the apartment, which in the long run always worked in our favor. Sorry, Linda," jokes Jackie.
It is clear that the friendship between these women includes a shared affinity for AU. Two of their children already attend the university and there are wishes for a third. "I am so happy to remain connected to AU. It was a great school for me. I hope at least one of my kids go there," Linda Daly says.
Today, Linda Lupo-Rodriguez is president of Lupo Investment Company, Inc., her family's commercial real estate firm. Linda Daly worked as a special education teacher, was a contributing editor to the now defunct Los Angeles Times Magazine, and plans to publish her first book, The Last Pilgrimage, in May. Jackie Cirillo-Meisenberg worked for the advertising agency, Young & Rubicam, was a freelance assistant and associate producer for companies such as Matchbox and Time-Life, and then became a full-time mom, which she says was her "favorite job of all."
While comparing their AU experiences with that of their children, Linda Lupo-Rodriguez and Jackie both commented on how today's AU professors use D.C. as a classroom. "As a freshman and being a part of University College, Ozzie has seen and toured more of the city with his environmental science group in his first year, than I think I saw in all four years at AU," says Linda. University College is a living, learning and laboratory experience that builds collaborative communities for first-year students at AU.
When sharing aspects of her AU experience that have stuck with her since graduation, Linda Daly says, "I had a lot of support from my professors, and I could not have graduated if it weren't for the few who really helped me out."

It is clear that these former AU roommates from the '80s have enjoyed reconnecting. "Thanks to AU, Ozzie and Hannah brought us back together again, and I am so happy about that," says Jackie.