Alumni
AU Alumna Elected D.C. Mayor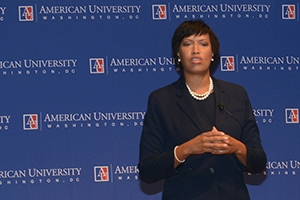 Muriel Bowser, SPA/MPP '00, is the mayor-elect of Washington, D.C. The democrat, who will be the city's first female mayor in 20 years, won election with 54% of the vote. She has represented Ward 4 on the Council of the District of Columbia since 2007 and defeated incumbent Mayor Vincent Gray in the April Democratic primary.
Bowser participated in a mayoral debate held at AU in September, where she promised to expedite school reform. She also expressed support for the idea of a stadium for Major League Soccer's DC United team and was open to the idea of Washington hosting the 2024 Olympics.
During her victory speech on Tuesday night at the Howard Theater, Bowser pledged to work hard on education, saying that the status quo isn't good enough. "Today's outcome affirms that you want to be proud of your leadership and your leader," she said. "We are Washington, D.C., and I pledge to you tonight that I will make you proud."