Alumni
Q & A WITH SCHOLARSHIP RECIPIENT MELODY TOOTOONCHI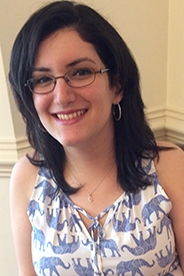 The Jean M. Sartwell Fund in the College of Arts and Sciences was established in 2014. Income from the fund will be awarded annually in accord with the university's financial aid policies to provide need-based scholarships to degree-seeking students at American University. In reviewing the pool of qualified applicants, whenever feasible, the funds will be awarded with preference for female students enrolled in the master of fine arts, creative writing program.
Tell us a little about yourself.
I was born and raised in Cumberland, Maryland, a small town with a great sense of community. My parents immigrated to the United States from Iran, so even though I grew up in a small town they made sure I was aware of just how big the world is. They emphasized education and instilled a love of learning in me that I will always be grateful for. School was definitely a priority in our house! Without the influence, love, and support of my parents, I never would have had the confidence and drive to pursue my MFA degree.
Why did you choose American University?
I chose to attend American University because it was the best fit for me without a doubt. The MFA program in creative writing lets participants explore writing in different genres, not just the one that they feel most comfortable with, which I think can only benefit our writing. Also, the university's location was definitely ideal because DC is a city that I have loved to visit since I was little. It's not too far from home, which means that my family and I can visit each other easily. Once I finally came to the campus and saw it with my own two eyes, I was completely sold. I knew that AU was the university for me.
In what student organizations do you participate?
I've only just finished my first year here at AU, so I'm not involved with any student organizations just yet. I wanted to completely focus on my academics first. Now that I'm about to begin my second year, though, I'm excited to explore the different organizations and participate!
Where would you eventually like to end up, personally and/or professionally?
My dream is to be able to write full time as a successful, published author of young adult novels. However, as anyone in the writing world knows, it's rare to be able to write full time. In the meantime, I would love to explore the world of publishing and see if that's something that could be a good fit for me. I think I would be happy doing anything that utilizes my passion for reading and writing.