Alumni
"IF you get called back." Look Into an Alum's Journey Through AU and Acting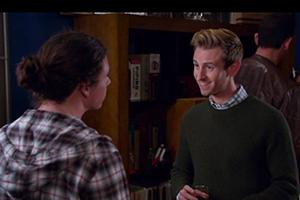 "Every day, every week can be different. IF you book something; IF you get called back." Noah Baron, SOC-CAS/BA '09, describes his 'normal' in the life of an actor. Sometimes Noah has longer recurring auditions; other times he reads just one line. Working on lines with his fiancé, setting up meetings, and sending out cards to casting directors, all from his LA home, is how Noah stays engaged and hustling during the workweek. "At least once a day I do something for my career," he says.
Noah found success through shooting and producing content to establish his online presence and talent for filmmaking, in addition to acting. He booked the Coen brothers' movie, Hail, Caesar! "Such a surreal experience," Noh recalls, "because there are 400 people on set. Then, someone yells, 'Everyone out except for A team,' and everyone leaves, and I'm just standing there with the Coen brothers and Scarlett Johansson." Baron also has appeared in Adams Morgan the Movie, Legion, To Tell the Truth, and The Middle.
At AU, Noah's "normal" was just as adventurous and unpredictable. He describes himself as "cocky, a self-proclaimed frat boy and party animal," but one who still got his work done. Noah was president of Pi Kappa Phi Fraternity and credits his leadership roles in Pi Kapp for his evolution into the organized planner he is today. And Noah says his personality type really helps with his acting career, joking that all his efforts revolve around getting rejected every day. "I've auditioned about 200 times and booked maybe five. If you don't have confidence, you can't be successful."
Noah came to AU as a transfer student wanting to focus on broadcasting. While on a campus tour at AU, he saw the broadcast journalism booth and the newsroom. "That's what really sealed the deal for me. SOC is the reason I went there, and CAS is the reason I'm doing anything now." Noah graduated cum laude with a dual degree in theatre and broadcast journalism. "Literally everything about my experience has stuck with me." Noah speaks fondly of his mentor and father figure at AU, Carl Menninger, a professor in the Department of Performing Arts. "He told me to audition and pushed me. He believed in me." Noah still stays in contact with Professor Menninger and his fraternity brothers. "I don't know where I would be if I hadn't transferred to AU," he says.
Noah recognizes the fear, passion, and luck that impacts people's ability to do what they truly want. He emphasizes to others to use their passions and "just do it," adding "You're gonna look back and regret your life if you don't do it."