Alumni
Pep Band Keeps Alumni Coming Back for More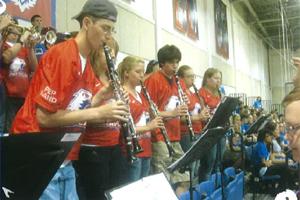 The AU Screamin' Eagles Pep Band was founded in 1930, and today it remains a popular way for musicians at the university to combine their school spirit with their love of performing.
The band plays at all home volleyball and men's basketball games, as well as all Phil Bender events on campus. They also participate in community events when possible, most notably the Marine Corps Marathon. They can be found at games and events sporting their uniforms of red football jerseys with their name and graduation year on the back. What makes the band unique from many other student groups on campus is that you'll find among the group several alumni who have remained involved for years after graduation.
Robert Phillips, SPA/BA '11, joined the Screamin' Eagles in the fall of 2009. A non-traditional student, Phillips was 26 when he came to AU and he lived off campus. He was looking for a way to get involved in campus activities and had played the trumpet for most of his life, so the Screamin' Eagles seemed like a great fit. During his time with the band, Phillips made many friends and decided to stay involved after earning his degree from AU. He says that alumni see their involvement as a way to "give back to AU and support AU's athletes."
Like Phillips, Jordan Maidman, CAS/BA '11, has remained involved since his graduation. Maidman joined the Screamin' Eagles in the fall of 2008, just after AU's first trip to the NCAA men's basketball tournament. Maidman enjoys the laid back approach Screamin' Eagles members take and stays involved because of the strong friendships he has made among the group. When asked why he and his colleagues keep coming back, Maidman says, "It gives us an opportunity to feel like undergrads again. We can attend the games, cheer for the athletes, and forget about our jobs for a little while."
AU Senior and Screamin' Eagles president Andrea Duarte enjoys that alumni remain involved. "It is rare and cool that alumni participate in the Screamin' Eagles. There aren't too many student groups on campus where the alumni play such a large role in the group," says Duarte.
Pep Band alumni who wish to reconnect and get involved in band activities may email Andrea Duarte, CAS/BA '13, at aupepband@gmail.com.