Alumni
Perspective: Though Cut Short, My Time Abroad Proves I'm On The Right Track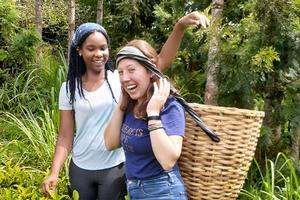 Mac Kenna Rogers, SIS/BA '20, reflects on studying abroad in Nairobi, Kenya during her final semester cut short by the COVID-19 pandemic.
Moments when I have stopped, taken in everything around me, and realized my life may be on the right track are rare. My study abroad in Kenya my senior year of AU was one of those times. It was the culmination of so much that is important to me, and it made me realize I am heading in the right direction to make a difference.
Although I was hesitant to move to Washington, DC, there was something deep inside me that knew American University was the right choice for me. AU offered Swahili, which I thought was out of the ordinary, and it provided many options for study abroad, which was the only thing I knew I wanted to do while in college. It was the scariest decision I had ever made to leave my life in Oregon. But, while on a service trip to Haiti a few weeks before I started classes, I observed a grassroots, crowd-funded project that sustainably provided water for the entire town. I was so impressed by what the community project was able to accomplish, it was at that moment I realized attending AU was going to provide opportunities for me to continue to witness amazing work like that and pursue a degree that had the potential to impact many others.
At AU, I have been able to grow my passions and find new ones. I couldn't run a mile and hated politics, but soon realized you can't survive in the nation's capital without loving both. I took Swahili as I had planned and ended up loving it so much that I spent most of my first year successfully advocating for an expansion of the program so my classmates and I could continue learning the language at an intermediate level.
I found my community on campus in an array of clubs but found my home working at The Dav coffeeshop where on any given day you could find me blasting ABBA or giving my favorite professors extra shots of espresso. With all the amazing memories I made on campus, it was hard to think of leaving to pursue my original dream of studying abroad, but I finally embarked on the adventure this spring during my last semester as a senior. 
My time abroad in Nairobi, Kenya, was the best semester—or at least the best half semester—I could have asked for. The AU Nairobi program exceeded every expectation I had. The classes were engaging, the weather was perpetually beautiful, and the Matatu culture of chaotic and uniquely designed minibuses with onboard entertainment is something you can only experience in the bustling city of Nairobi. I fell in love with learning to cook on a gas stove, picking tea and selling it at the buying center, eating three mangos every day, and taking weekend trips to find giraffes and climb mountains. I joined my university volleyball team and quickly learned that playing volleyball on the equator is the easiest way to sunburn your entire body. The freedom I experienced in Kenya was unlike any other.
A crucial part of the abroad program was the opportunity to intern for a local nonprofit. Because of my background in Swahili, I was placed at an organization called Yawezekana Sacco, which in Swahili means "you can do it bank." The organization is a microfinance firm that has helped hundreds of thousands of people grow businesses across Kenya and is currently focusing on assisting individuals located in the slums of Nairobi.
On one memorable day of my internship, I spent a day in the field to see the organization's work in the nearby impoverished community. In a short ten-minute walk from the front door of Yawezekana Sacco, I was meeting clients in their shops, homes, and schools. That day I met a group of men my own age who were digging a trench down the middle of the slum. The local city council donated fifteen tree seedlings and the men were prepping the ground for those young trees to be planted in the middle of their community. As they shared their excitement of making their community a more beautiful and welcoming place, I grew more enthusiastic to come back one day and see the growth of the trees and the community.
That morning, I experienced a moment where life clicked together. As I stood in one of the fastest-growing cities in the world, within a slum that development had left behind, I realized I was making an impact. Not only was I learning about the circumstances of the world, I was gaining hands-on experience about how to solve issues of inequality through local, grassroots organizations that are changing lives. Unfortunately, due to the COVID-19 pandemic, my time in Kenya was cut short, but I am incredibly lucky for the time I had. I am fortunate to have had two and half amazing months to study, experience, and immerse myself before I had to leave. I've spent the last few weeks working remotely for my Yawezekana Sacco internship where we have continued doing meaningful work to assist those in need due to COVID-19. Currently, many of those same people I met that day in Nairobi do not have access to food because of the extreme lockdowns in place to stop the spread of COVID-19. Yawezekana Sacco is one of the few ways community members can get help safely. It is humbling to know that a $10 donation can feed a family for a week.
My experience abroad in Kenya and my time at AU has allowed me to grow as an individual, discover new passions, and feel confident that I am prepared to face the world ahead. I may have to wait to walk across the stage to have a physical affirmation of this accomplishment, but for now, I cherish those moments that remind me that I am blessed to have had the opportunities I have been given. I am, indeed, on the right track.