Alumni
Pride Alumni Alliance: A Year in Review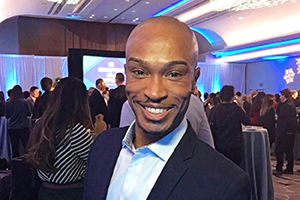 It goes without saying that this year has been an eventful one. To many, it may feel hard to remember what life felt like even a few months ago, but perhaps now – more than ever – is a time to reflect, remember, and appreciate just how far we have come. 
In celebration of National Pride Month, we spoke with Shawn Richardson, SOC/MA '08, chair of AU's Pride Alumni Alliance, who is in his third and final year of leading the organization. With support from the rest of the leadership circle (Charley Fogel, CAS/BA '13, Foster Curry, CAS/BA '10, and Walker Sands, Kogod/MBA '14), Shawn helped the Pride Alumni Alliance make great strides in supporting students of the AU LGBTQ+ community and bring visibility to the work of AU alumni. In honor of his last year with the alliance, we reflected on his personal experiences and what he hopes lies ahead for Pride alumni. 
"When I joined PAA in a leadership role, Charley and my top three priorities were to increase visibility of the alliance, grow our membership, and engage more with LGBTQ+ student groups," says Shawn. "[I had] no connection with PAA with my experience as a student. As a grad student at AU, my focus was my coursework."
This past year, the Pride Alumni Alliance successfully leveraged those priorities through partnerships with student groups and campus departments. They kicked off the academic year with a longstanding annual event, Being LGBTQ+ in the Workplace, where they hosted a panel and networking discussion around the intersection of career and identity with the Center for Diversity and Inclusion. 
The event was soon followed by a co-sponsorship with the Women's Initiative, a student group, focused on gender and sexuality. The PAA partnered with them to help bring Dominique Jackson, trans-activist and star of the hit FX television series Pose, to campus. 
"The Conversation with Dominique Jackson was one of my favorite events because I'm a big fan of Pose. It's not often that we see a trans actress on a television series," Shawn says. That event opened with remarks from Alumni Board member Melanie Brown, CAS/BA '02, and ended with an opportunity to meet Ms. Jackson. 
The fall semester wrapped up a Pride Alumni Alliance tradition – Pride Thanksgiving (sponsored by Alumni Board President Rob Johnson, SPA/BS '81, and former Alumni Board member Danielle Vogel, WCL/JD '07). At a time when many students are home with their families, the Pride Alumni Alliance provides a space for LGBTQ+ students, faculty, and staff to convene for a meal, games, music, and good company on Thanksgiving Day. 
When asked about his legacy, Shawn says he hopes to see the Pride Emergency Fund established and ready to assist students. Luckily, through the efforts of Development and Alumni Relations and the Office of Campus Life, an emergency fund for LGBTQ+ students at AU is underway and likely to be up and running before the end of 2020. 
"In the next five to 10 years, I would like to see PAA's is evolving and always looking for alumni volunteers with new perspectives who are ready to deliver on our vision."
If you are interested in volunteering or becoming a member of the Pride Alumni Alliance, please reach out to Maya Graham at mayag@american.edu.