Alumni
Recent Alumni: Where Are They Now?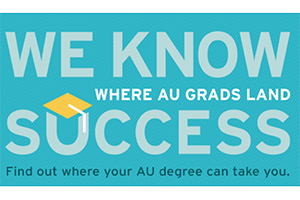 WeKnowSuccess is a powerful tool published by the Office of Institutional Research and Assessment (OIRA) and University Communications and Marketing (UCM). This tool allows prospective students and parents to feel confident that an AU education will provide them with the skills necessary to succeed in the world. But where does this data come from, and what story does it really tell?
OIRA, along with the career centers on campus, strives to collect data from each of our newest alumni regarding their plans after AU and where they land within six months after graduating. In addition to populating the WeKnowSuccess website, the Alumni Association also uses the data collected during this process to remain connected to our young alumni—and to help forge connections between them and the other 128,000 alumni worldwide.
So how are our 2017-18 Eagles doing, now that they've flown the coop? 
Across the five schools on main campus (CAS, Kogod, SIS, SOC, and SPA), we have information on approximately 80% of recent graduates (from August and December 2017, and May 2018), for both bachelor's and master's degree recipients. Some of the most interesting things we learned are[1]:
Master's Degree Recipients:
•   Almost 90% are working in a job that is related to their career goals! Of those, almost 40% are working in private, not-for-profit companies. The rest are almost equally split between government and the for-profit sector. A handful are self-employed.
•   Over half are working in the DC metro area, with over 40% in Washington, DC alone.
•   Fewer than 10% are planning to continue their education, but of those, over half will stay at AU and over 60% are doctoral candidates.
•   The median income of those working full-time is $56,000.
Bachelor's Degree Recipients:
•   73% are working in a role related to their career objectives. Of those, over half are in the for-profit sector, about 30% are in non-profits, and the remaining are mostly working for government. 
•   Over half are working in the DC metro area, with nearly 40% in Washington, DC alone.
•   Almost ¼ are planning to attend graduate school, over half of those at AU. More than 75% of those are master's candidates. Eleven percent are pursuing a law degree.
•   The median income of those working full-time is $45,000.
We encourage you to explore the WeKnowSuccess website to stay up-to-date on what your fellow Eagles are doing.
[1] This is unofficial data, accumulated by the AU Career Center and Alumni Association. WeKnowSuccess, the official, published data from the university, only contains information about May graduates.