Alumni
Art History Graduate named Chief of Staff at the Library of Congress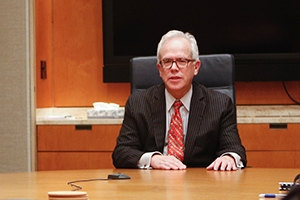 Working in Washington, D.C. can be both stressful and demanding at times. However, amidst the beltway hustle and bustle, Robert Newlen, CAS/MA '79, is fortunate to work in an environment that he finds both challenging and rewarding.  
What started as a part-time job during his graduate work at American University has now come full circle. Recently, the D.C. area native was named chief of staff at the Library of Congress. As chief of staff, Newlen will take on Library-wide program and management responsibilities and also oversee the offices of Communications, Congressional Relations, Development, Chief Financial Officer, Contracts and Grant Management, General Counsel and Special Events and Public Programs.
Newlen began his career with the Library of Congress at the age of 21. While taking classes in the art history master's program at American, he worked in the library's Congressional Research Service, responding to inquiries from congressional staff on collections at the library. 
"If you're going to be in Washington, what better way to learn about Congress and the democratic process?" says Newlen.
During his 39-year tenure with the institution, he has served in several capacities, most recently as assistant law librarian for collections, outreach, and services in the Law Library. Newlen assumed that position in 2010, overseeing collection development, research and reference services and outreach to the Law Library's diverse constituencies. He also managed the Law Library's development and fundraising initiatives and last year oversaw the Library's Magna Carta exhibition and its related events.
Overseeing Library of Congress exhibits gave Newlen an outlet to use skills he learned through his studies at AU. Art history still remains an enormous enjoyment for him. 
"What I learned in the Art History Department at AU has stuck with me and has been a great pleasure in my life" said Newlen. "All of the professors I had were focused on an analytical approach to art history." This approach, he says, has been very valuable to him in a number of situations throughout his time with the library.  
For Newlen, however, service is the best part of the job. He considers it a real privilege to serve the United States Congress.  
"Every job I've had here has been a dream job," he says.