Alumni
A Fairy Tale Ending for an American University Princess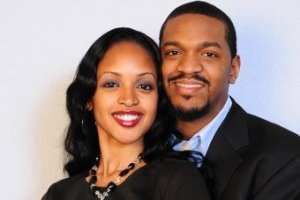 Ruth Nsemere, CAS/BA '11, is not the typical princess you hear about in fairy tales, but she is about to get her fairy tale happy ending by marrying her prince, an American named Christopher Thomas, in November.

Many people may be surprised to learn that for the past four years, American University has had a princess on campus. Ruth's brother is King Rukiraba Saija Oyo Nyimba Kabamba Iguru Rukidi IV of Tooro Kingdom in the nation of Uganda, and while Ruth is a princess, she tries to keep a low profile. In fact, according to Chris, a University of Maryland accounting graduate, he and Ruth did not even discuss in detail what it meant to date and possibly marry her until they were very serious in the relationship.

Every boyfriend is intimidated to meet his girlfriend's parents, especially when there is a background check involved. At that point, Chris says, he was introduced to the Ugandan royal culture and just how important her role is. He was told, "You are not just marrying Ruth; you are marrying the whole kingdom."

Ruth's father was an ambassador, so she grew up in many places – Uganda, Cuba, the United Kingdom, Libya, and, finally, America. Ruth says she decided to come to AU after applying to several colleges, but it was a visit that sealed the deal. She enjoyed the small campus atmosphere and has cousins who have attended and enjoyed it.

She stayed busy, as many AU students do, by working jobs on campus as well as internships off campus. One internship that Ruth particularly enjoyed was with Becky's Fund – an organization that coordinates domestic violence outreach, education, and prevention. Ruth says, "Becky's Fund was a really good experience, learning about different kinds of domestic violence, because it wasn't something I had known about before. I learned a lot."

Since graduation, she has begun her career at City Gate in D.C., which educates underprivileged children and provides after school programs.

Ruth chose to major in women's, gender, and sexuality studies because, she explains, "There are a lot of disadvantaged women in Uganda and around the world, especially in third world countries. I wanted to learn more about it and be able to help women."

Ruth plans to translate her AU education and her internship experience into her role as princess by starting a charity for underprivileged Ugandan women and children. The couple will split their time between the United States and Uganda after they marry in November.

In Uganda, Ruth is very well-known. Four television stations are in negotiations to film a special documentary of her impending nuptials. She has graced the cover of Flair magazine and is subject to constant speculation by the Ugandan tabloid media. Some tabloid reports claimed that Chris proposed at the top of the Eiffel Tower and then gave her a MayBach sports car costing upwards of a quarter of a million dollars.

Ruth says, "Those are all crazy tabloid lies. We just laugh at it." Chris adds, "We don't give interviews to the press, so they just make up stories about us." The truth is, Chris proposed to Ruth at a local, aptly-named Ruth's Chris Steak House. There was no MayBach.

For all the responsibilities that accompany such an important role, Ruth handles herself with grace and aplomb and is very down-to-earth. Armed with her degree from AU and a passion and compassion for women's and children's issues, we are sure she will make a difference in the lives of Ugandans who need help.