Alumni
Ryan Hansan, Kogod/BSBA '08, has an Appetite for Success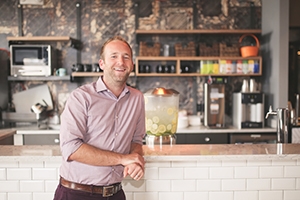 When Ryan Hansan graduated from Kogod in 2008, he never thought his livelihood would be based on helping start-ups launch, run, and grow – but that's exactly what he does now. Ryan is the founder of TasteLab, a successful culinary incubator and commercial kitchen in Northeast D.C. His business has assisted more than 65 small food businesses in starting or scaling up since its own opening in March 2015. 
Before TasteLab, Ryan kept busy with his own food businesses: a dinner kit delivery start-up, scratchDC, and the healthy vending start-up, TinyGrocery. During his early years in the food business, Ryan worked hard and learned plenty of tough lessons along the way. With TasteLab, he wanted the chance to help other people avoid the challenges and pitfalls he experienced in his ventures. He coaches clients in business-launching basics, regulatory standards, licensing and other legal logistics, packaging, bringing products to the marketplace, and using certain metrics to guide success. 
Most recently, Ryan launched the TasteLab Marketplace at Union Market. This exciting new retail space features creations from District-based small businesses that operate out of TasteLab. It is the only retail outlet at Union Market that exclusively sells food and beverages made in D.C. Foodies venturing through can try out an eclectic mix of salsa, jerky, spice blends, syrups, chocolate, fresh-pressed juices, hummus, and more. "Not only will this Marketplace allow us to introduce all of these incredible products and entrepreneurs to the thousands of people who visit Union Market on a daily basis, but we will be creating a new revenue stream for our members and in some cases, putting them on their first shelves," Ryan said.
Ryan credits Kogod for providing him with a strong educational base for his career. Kogod taught him the importance of being flexible and knowing how to pivot when necessary. 
Looking to break into the D.C. food industry? Here are some of Ryan's keys to success:
Remember that you are the company, so you are going to have to do almost everything yourself.
Surround yourself with extraordinary people.
Accept that you will make mistakes.
Learn something every day.
Work harder than you ever imagined. This takes guts!
Analyze the data that you have to become more efficient. 
Most importantly? Ryan says, "come to TasteLab!"