Alumni
Q & A WITH SCHOLARSHIP RECIPIENT MARIAM KHORENYAN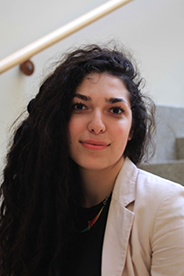 The Judith K. Meritz and Lawrence A. Muenz Fund was established in 2015 to provide scholarship support to undergraduate students enrolled in the School of Public Affairs at American University. Applicants are typically students who demonstrate high academic achievement and financial need. Preference is given to those who are the first in their family to attend a four-year university program and have matriculated at the university from a public or public charter school in a major metropolitan area. 
Tell us a little about yourself.
I am a current undergraduate student studying justice, law, and criminology in the School of Public Affairs. I am from Los Angeles, but was born in Armenia. My passions specifically lie in law enforcement and criminology with a focus on crime prevention.
Why did you choose American University?
I chose American University because I knew no other school would be able to give me such a great education and also provide me with such incredible opportunities. The highlight of my AU experience has been being a part of a student body that challenges me every day. Whether it is in the classroom or in the various extracurricular activities that AU students are involved in, I find myself being pushed to accomplish so much more than I ever thought I could.
In what student organizations do you participate?
While at AU, I have partaken in various extracurricular activities. I am the current president of the AU Consulting Club. I have been an ambassador on campus since my first semester. I give weekly tours and coordinate prospective family visits to American University. I truly enjoy sharing my story with prospective families and showcasing just how great AU really is. Additionally, I recently joined the Phi Sigma Pi National Honors Fraternity on campus. Finally, I partake in our yearly Explore DC Program with the incoming class where we take three days to go volunteer at any given nonprofit organization around the DC area during Welcome Week.
Where would you eventually like to end up, personally and/or professionally?
My passion for the consulting field has definitely grown at AU. I participated in the Deloitte Case Competition a year ago and my group was fortunate enough to move on to the final round. I would love to combine this interest in consulting with my interests and studies in criminology and national security.