Alumni
Alumna Sherry Soanes Pays It Forward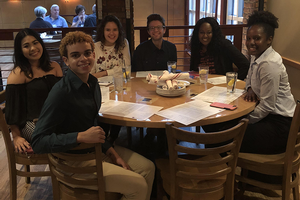 Sherry Soanes, WCL/JD '97, always knew she wanted to go to law school, but her journey wasn't a straight line to a career in law. A 1988 graduate of Howard University, she began her career in social science before attending the Washington College of Law several years later to pursue her Juris Doctorate.
Sherry intended to work in constitutional law until she enrolled in an advocacy class taught by a practicing criminal lawyer. "He was so engaging – he taught us how to bring the words on the paper to life," she recalls. "At the time, I didn't feel like I had the confidence to [be a trial attorney], but the professors at WCL were like, 'of course you can do this.'" She decided she no longer wanted to do constitutional law, and instead she wanted to be a trial attorney, to sway people. She learned that if you have the skills to be a trial attorney, the subject area doesn't matter. "Once you master the rules, then whatever subject is put in front of you, you can tell a story with it," she says. Sherry takes the skills she gained from WCL and implements them daily in her role at the Department of Justice. She also passed along this knowledge when she worked as an adjunct professor at WCL and when she hired AU students as interns.
The incidents of racism, discrimination, inequity, and bias at American University motivated Sherry to engage with the university in a more active way. She thought, "This is not the AU that I know." She asked herself, "What can I do to make a difference?" Since then, Sherry has taken action – joining the AU Alumni Board and hosting student-alumni events to mentor current students. She wants to ensure that AU is not just a diverse university, but also an inclusive one, where students feel welcomed and supported by the entire AU community, especially its alumni. She is now a co-chair of the Alumni Board's Awards and Nominations Committee tasked with selecting recipients of the annual Alumni Awards and the Alumni Association Scholarship.
In her spare time, Sherry enjoys cycling, running, theatre, and traveling. Having moved from the Caribbean to the United States, Sherry says she's accustomed to new experiences, which influences her love of travel.
On the reasons she continues to be involved at AU—and why she would encourage others to do the same—Sherry says, "I have come to believe that we are more similar than we are different, but for some reason, people want to put others in a box. Let's work on the things that bring us together. Never stop learning."