Alumni
Two Sisters, Two Paths, One University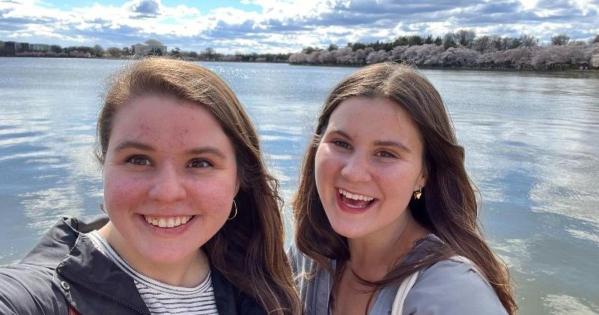 Sisters Emily Molloy, SIS/BA '16, and Molly Molloy, SOC/BA '22, always lived in the same town, went to the same K-12 schools, and shared the same last name – but they never expected to go the same university. While Emily planned to pursue a career in international service, Molly saw herself following a very different path. 
"I was apprehensive about going to the same school as Emily because I wanted to go into communications," Molly said. "I was like, 'How can I do that at a school in DC? Everything seems to revolve around politics there.'" 
Though she was concerned that she would duplicate her sister's experiences at American University, Molly started her first year in 2018 with some sisterly advice fresh in her mind. 
"Take chances, and follow what interests you the most," Emily had said. 
Emily also followed this advice during her own time at AU. As an international studies major in the Global Scholars Program with a minor in gender sexuality studies, she graduated in just three years – but not before spending a semester each in both England and Germany. After her 2016 graduation, she began her employment at an international development firm, working to implement projects in Lebanon, Iraq, Afghanistan, and Myanmar. She now lives with her dog Dottie near Capitol Hill.  
"When I came to college, I was so happy we were in the same city because I was very far from home," Molly said. "It was nice having family around." 
During her transition to college, Molly said that having her sister nearby made her feel at home despite residing over 700 miles away from their hometown of Glen Ellyn, Illinois. Visiting new restaurants, enjoying DC's spring scenery, and strolling through Eastern Market have become staples for the Molloy sisters in the last several years.  
As Molly settled into the new pace of college life, she found herself following her sister's advice; when an elective course led her to a newfound passion in business sustainability, she was quick to add it as a minor. After her May graduation, Molly plans to pursue a summer marketing and communications internship with Thread Up, a sustainable clothing company based in southern California.  
"She's moving away from my dog forever," Emily joked. 
Though they may soon no longer live in the same city, they say that they are grateful to AU for connecting them through a shared experience and campus culture – and for their launching their respective careers.  
"It's been interesting to think about how AU has shaped both of our professional lives, even though we're in totally different spheres," Emily said. 
Despite her original apprehensions about following her sister to Washington, Molly said she learned that there is a myriad of experiences to be had, even at the same university.  
"It's not just copying her experience. It's following in her footsteps but making my own unique path," Molly said. "She told me that AU would be a good choice for me, but my experience really proved that."