Alumni
Alumnus Seeks to Educate Others While Searching For Kidney Transplant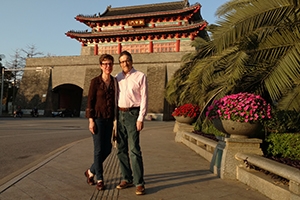 Stuart Miller, SPA/BS '81, doesn't look or feel sick. "People always say 'you look good.' And I don't feel sick. I'm at the point of needing a transplant, but I still don't look or feel sick," he says. While you wouldn't know it if you saw him, Stuart has end stage renal failure and needs a kidney transplant to survive. "The interesting thing about kidney disease is that you often don't know you have it until you get a blood test," he says.

Stuart, a former alumni board member, and his wife, Carole Girod Miller, SIS/BA '81, met at AU and were married in 1985 at Kay Spiritual Life Center. Shortly after, he went to buy life insurance, and the required blood test showed elevated levels of protein in his blood. In the following years, through several moves and doctors, Stuart was told that it wasn't uncommon, so he never gave it much thought.

Ten years ago, though, after Stuart and Carole moved to the Atlanta area, Stuart's doctor insisted he see a kidney specialist. That's when he learned his kidney function was about 50% of what it should be. Symptoms are few and don't tend to be noticeable until the disease is advanced, says Stuart.

Now the Millers split their time between searching for a kidney donor and running a home décor business, The West Highland Group (named for their love of the dog breed). Owning your own business gives you a degree of flexibility, Stuart says, which has been an advantage thus far in his treatment. He is not yet on dialysis and can still travel for now. "My goal is to get a transplant before needing dialysis," he says.

Stuart is grateful that his day-to-day life has thus far been spared major disruption. "It's more of a mental thing, the waiting game, not knowing what's going to happen or when or if you're going to get a transplant," he says. That's his biggest challenge. Given that, Stuart also seeks to educate others about the need for organ donors, particularly living ones. "I would encourage people to consider becoming a living donor. There are 102,000 people on the national wait list and only five to six thousand transplants per year from living donors," he says. "The estimated wait time is about five years. And 13 people die every day waiting for a kidney transplant. We're born with two kidneys, but we don't need two. Living donors go on to have perfectly normal lives." And studies show that living donated kidneys last about twice as long as those from deceased donors.

Now, as Stuart awaits a transplant, he acknowledges what a serious decision becoming a donor is. And he considers how his own outreach to personal networks might benefit others. "If I am able to find a living donor, then I come off the list for deceased donors, meaning someone else will get a kidney too," he explains. Also, if prospective donors he knows or meets aren't matches for him, they will have the opportunity to help another.

While his wife is not a perfect match for him, she is in the process of being tested as a living donor. If she's approved they would be eligible for a paired exchange donation. This program allows for non compatible donors to be matched through a national registry. "I need a type O donor. The positive or negative doesn't matter for kidneys. Just the blood type," he says. While Stuart awaits his own donor, he will continue to educate others about the importance of organ donation and the importance of living donors so that he might help even a small number of the 102,000 people in the same waiting game.

If you'd like more information about organ donation, please visit organdonor.gov or kidney.org. Stuart Miller also welcomes personal outreach on the subject of organ donation and his own search for a living kidney donor. He can be reached at smmiller4@gmail.com.