Alumni
Engaging in New Ways: Student-Alumni Association Launching this Fall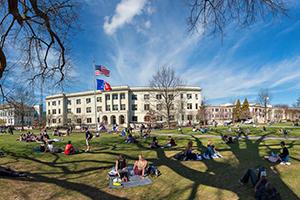 "Giving back to the university is an extremely important part of being alumni, and the Student-Alumni Association will give alumni more opportunities to remain connected to the student community and to help educate them about what they can do to support those current students," says Jarryd Delaney, SPA/BA '19, founding co-chair of Student Philanthropy Council.
American University's Office of Alumni Relations is launching a Student-Alumni Association (SAA) this semester. Ten students will be selected to serve as founding board members and will help shape the SAA. The goal of the SAA is to make the transition from current student to alumni citizenship as smooth as possible while instilling a culture of tradition and school spirit—and helping students understand why it is important to stay connected with AU. 
"I am excited to be a part of the SAA, because I really think this organization will help AU students realize the university has more to offer them than top-notch courses and a beautiful campus. It has a community that extends beyond Fletcher Gate willing to support their fellow Eagles," says Julia Larkin, an SPA student who is one of the co-chairs for Student Philanthropy Council and President of AU Dems.
SAA members will help make this transition from student to alumni seamless by accomplishing three objectives:
Creating greater awareness of the Alumni Association and alumni community
Fostering community, tradition, institutional pride, and a sense of belonging for fellow students
Instilling a culture of giving back through time and talent
AU is constantly striving to find better ways to connect students with alumni for networking purposes, to help build community, and to develop comradery and pride for being a part of AU. The SAA is a great way for students to get involved, build AU pride, and network. 
The SAA is a collaboration between the Alumni Association and the Office of Campus Life. For more information feel free to reach out to Jen Romeo, Director of Student and Young Alumni Engagement at jromeo@american.edu (202)885-5962.